We Talked to the Stylist Who Dresses Our Nation's Capital
Slate's Working talks to Rosana Vollmerhausen, founder of DC Style Factory.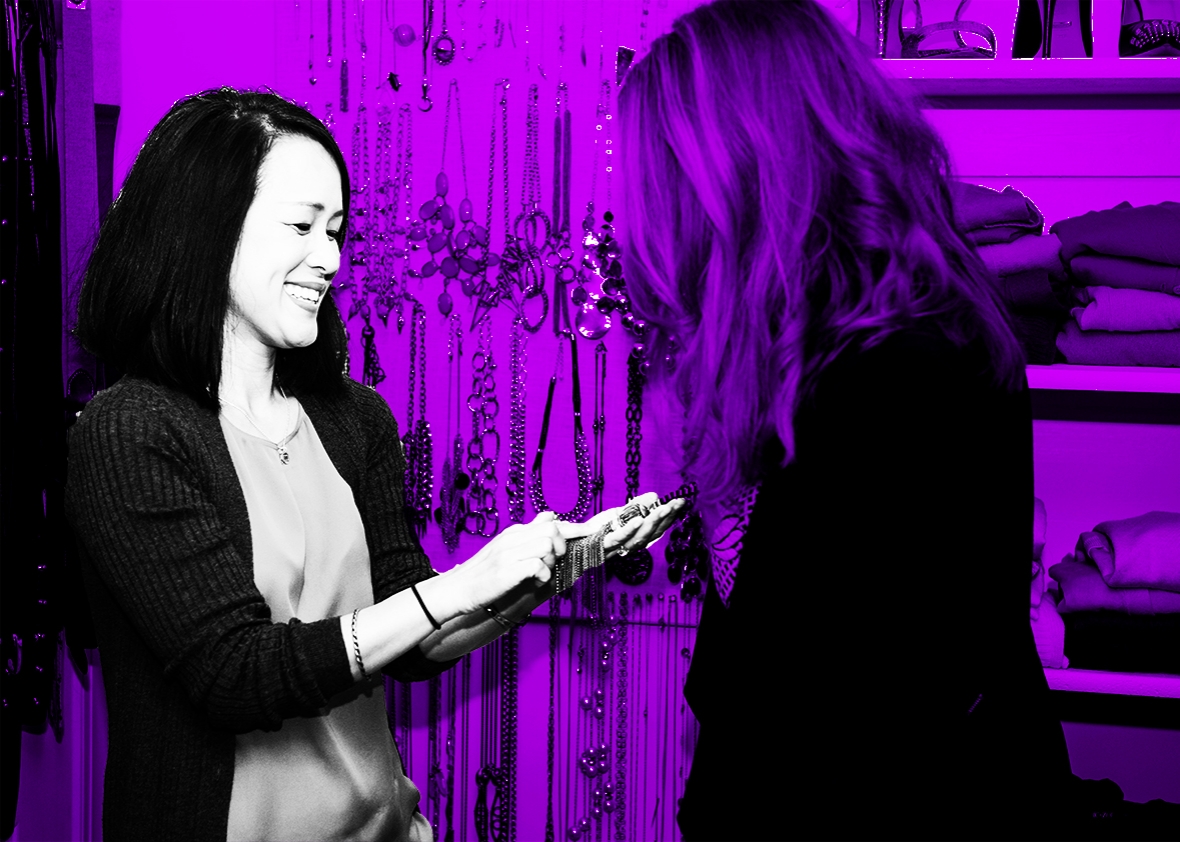 In Monday's edition of Working, Slate's Jacob Brogan talks with Rosana Vollmerhausen, founder and chief stylist at DC Style Factory. Since Rosana founded DC Style Factory seven years ago, she's styled hundreds of men and women who live and work in our nation's capital. Listen as Rosana shares what it takes to help some of D.C.'s finest—from politicians to stay-at-home moms—develop their own personal style.
How did Rosana turn her love for fashion into a career? What can personal stylists tell about a client from their closets? And where does Rosana find inspiration for her own style?
And in this episode's Slate Plus bonus segment, Jacob talks to Rosana about her opinions on fashion in D.C. How does Rosana feel about D.C.'s bad rap as a notoriously unfashionable city? And what factors have shaped the city's fashion trends?
Jacob Brogan: You're listening to Working, the podcast about what people do all day. I'm Jacob Brogan. For the last few weeks, we've been talking with the people who make us look good. Our guest this week is one of their number, Rosana Vollmerhausen, founder and chief stylist of DC Style Factory, a local business that helps people evaluate and improve their wardrobes. Sometimes that means encouraging customers to audit their closets, working with them to determine what should go, and what they can put to better use. And sometimes it means helping them find newer, more flattering clothes.
Vollmerhausen shares her thoughts about working to meet client's individual needs. Helping them develop a personal sense of style instead of simply imposing her own taste on them. And in a Slate Plus extra, Vollmerhausen shares her thoughts on style in D.C. Is it really as bad as everyone seems to think? Vollmerhausen has some thoughts.
What is your name and what do you do?
Rosana Vollmerhausen: My name is Rosana Vollmerhausen and I am the founder and chief stylist at DC Style Factory.
Brogan: What does that entail? What do you do as the chief stylist of DC Style Factory?
Vollmerhausen: I am the stylist of a personal styling company. And we style hundreds of men and women all over the D.C. area. Our clients are attorneys, folks on the Hill, all the way to stay-at-home moms, nonprofit heads. So we cover a wide range.
Brogan: How long have you been doing this?
Seven years with DC Style Factory. And then before that, I owned a boutique where we styled people through the boutique. And that's really where I launched into this kind of world of fashion and style is really from the retail side.
Brogan: Had you been interested in fashion and style prior to making that jump?
Vollmerhausen: Absolutely. But honestly I always thought it's always been a passion of mine, but I always thought it would be a hobby.
It was something that I just enjoyed doing on the side, but that I'd always been conditioned to find something in life that would be fairly easy to get a job and support myself. And sort of the creative type of job wasn't something that I think was really pushed on me as a child. So, I'd always kind of had little buckets, and fashion was in the sort of I love this, I enjoy it, it's my passion side bucket.
Brogan: What do you love about fashion and clothing? Why are you passionate about this?
Vollmerhausen: I love the transformative nature of clothing. And I love how you can put something on and it affects how you feel. You can walk out of the house and when you feel really good about your outfit, it changes your perspective on the day.
Brogan: What made you feel that it was worth taking fashion seriously?
Vollmerhausen: So I'll start back at the boutique. When I decided I would take this leap of faith and really turn my life upside down. You know, I had had jobs editorially up until that point, really just had a really stable nice career in this world. So, I was in my 20s and when you're in your 20s, ignorance is bliss. So, it was the situation where I felt, I'd met my business partner and we both had this interest and this passion in fashion. And we both said to each other, do we think we can make a go of this?
Do we think we could try and do something in this world? And a boutique seemed like a logical place to do it, retail. And we both had great knowledge when it came to brands. Our boutique actually specialized in emerging brands. So, that was really what we were about. We carried Rag & Bone before they had a women's wear line. It was just men's denim.
We carried Band of Outsiders when it was just the Oxfords and the ties. And to bring that to the D.C. market was exciting to us. We hadn't seen anything like that before at that point.
Brogan: Is that emerging fashion, those emerging brands, are those still important to the kind of the business that you do now?
Vollmerhausen: Yes and no. So we meet a lot of clients during transitional points in their lives.
Whether they're interviewing for a partner at a law firm, or they just had a baby, or divorce, getting married, whatever. These transitional points. So, for those different areas that we work with, we work with a lot of staple pieces, classic pieces, and we work with many different budgets. Sometimes the emerging brand is for a certain segment of the population that's really going to understand and get into fashion.
But that's why we talk mostly when we talk to our clients and we describe our business, it really is about personal style. And the word fashion, that particular word, doesn't come into the conversation very often. Usually we'll start with essentials, and then we'll introduce stuff that's a little bit different that's emerging, that's going to add a little flavor.
Brogan: The anthropologist Dick Hebdige suggested that style was fundamentally an aberration, that it was not about staying on trend, but rather about disrupting norms. Is that something that people have to learn? Or do you have to get them to get comfortable with what's on trend first?
Vollmerhausen: So, we talk to our clients. Obviously, we need to be educated about what is current, what is out there, what is hip. But, we really encourage our clients not to just follow trends, but to really consider what works for them. We talk a lot about body type styling, so really what's going to work for their silhouette, for their lifestyle.
Some trends may just not work. So, yes, we want to disrupt a little. That's what makes style and fashion fun. But what we do with our clients, we want it to have staying power. We want them to feel comfortable in what they're wearing and that every day that they go to work or out with their families, that they feel really put together and they feel it's authentic to who they are.
What I bring to the table are little bits of knowledge about, if we're going to do a pencil skirt for you, we really want it to hit right below your knee, and we want it to taper a little toward the knee. We want it to hit on your natural waist, you know, because of what your body shape is, that's going to be the most flattering. And we also bring to the table what's current, what's happening in fashion right now.
And sort of clearing out some of the noise of pieces or trends that may not work for this particular client but, oh, you might want to try this. This actually I think could really suit you. So we give them ideas, because sometimes it can be confusing. You look at magazines, and you look online, and you're kind of wondering what you should try.
Brogan: What about you? How do you keep up with trends and brands and so on? What are your go-to sources?
Vollmerhausen: I feel like it's trite to say Vogue, but I'm just going to go ahead and say it.
Vollmerhausen: Yeah, Vogue. But I also do some other magazines. Like In Style really takes a lot of the trends and you can kind of see them, how they would work in everyday life, which is very useful to us. I follow some great bloggers. And when I talk about style and fashion, a lot of times if I'm looking at a Vogue, and we're looking at high fashion stuff that's come out on the runway that maybe you're not seeing on retail floors yet, it just gives me an inkling of what I might see maybe even a couple weeks later. But it's not necessarily what I'm recommending right away to my clients.
Brogan: Presumably especially not the runway stuff.
Brogan: Is there such a thing as a typical day for you?
Brogan: When do you usually start?
Vollmerhausen: I start at five in the morning.
I wake up. I have three children, so I usually wake up before anybody gets up. And I work for a couple of hours. That's the time where I answer emails and try to get paperwork done. A lot of people think of personal styling and we're just rolling around in Gucci handbags and Chanel.
Vollmerhausen: We are part of the time, but there is an office work element to owning your own business and to doing this. So, that's primarily when I get it done are those early morning hours. We book our first client starting at 9 o'clock.
So I work for a couple hours, get the kids out the door, and usually off to my first client. And that could be at their home for closet work. It could be out shopping with them. It could be creating outfits. We have a variety of different services.
Brogan: So you work out of an office, but when you're actually meeting with clients, that's mostly on site?
Vollmerhausen: Absolutely, I would say most of our time is spent out in the field.
Brogan: You must spend a lot of time traveling around from location to location. How much of your day is that time in transit?
Vollmerhausen: I would say commuting, there's time for two clients, maybe sometimes three clients a day. And in between each client, there is an hour of commute. So, three hours at least of driving.
Brogan: Are you usually able to find time for lunch, for self-care?
Vollmerhausen: Fast lunch. And we usually schedule our weeks, where clients are maybe booked up in one day, but then we'll put aside office days. Because there is paperwork to do. There is follow up with clients. There's other pieces of the puzzle. And so there is time for that that we block off.
Brogan: How late into the evening does that paperwork, that extra stuff take you?
Vollmerhausen: So I have a great system that I just implemented about a year ago. And I did used to do that late into the night, paperwork.
And I figured out that my productivity once I hit a certain time at night was just not good. Once I put the kids to bed, I would hop on the computer and try to finish things. So that 5AM wake up time, that's a lot of the time now that I get that paperwork done, like billing, and all of those nuts and bolts, follow up with clients, social media. I'll take care of in that early morning hours.
So I'm usually finished with a client by about five, so I'll work for maybe another hour, and tie up any loose ends, and then I'm done.
Brogan: Do you have to think about the way that you dress when you're going out to meet with clients? Is your own look an important consideration?
Vollmerhausen: Yes, it is a consideration. We really are there for our clients. And we really are talking to them about their personal style, not what our personal style is. And what I like and what I would wear for myself in this situation does not matter.
And what I bring to the table is expertise, knowledge about body types, silhouette, brands, retailers. That's what I bring. But it's really getting to know your client and what's going to work for them. So, what I usually wear to a client meeting, it always has to, A, fit well. And it should look modern and put together. But really just like a polished look that's maybe a little outside the box.
But I'm not going to show up at a client in crazy distressed jeans and a tee-shirt. It is still a professional environment. And we're building that trust. So, we don't want a client to look at us and say, "Are you going to dress me like that? That's not me." We just really want them to be the focus.
Brogan: And you want them to know that it's going to be their look that comes out of it.
Vollmerhausen: It's going to be their look, and they might like some elements of what I'm wearing, but the focus shouldn't be on what my style is.
Brogan: Do you though ever have a client say, "I want to wear that," pointing to your shirt or something like that?
Vollmerhausen: All the time, yeah, all the time. Or I like your shoes. I like your blazer. You know, pieces. And that is helpful and useful, because that helps me get to know what they like. But our personal style when we're meeting with clients, especially that first time, I always say should be quiet, not this loud in-your-face style. Maybe for off-duty you go a little outside the box, but we really want to focus on who we're working with.
Brogan: Do you have a go-to super outfit for big clients or important sessions?
Vollmerhausen: Absolutely, I do. I usually will stick tailored skinny pants, or jeans, as long as the jeans are really dark and polished looking. And some sort of solid blouse. Could be a silk blouse. And a blazer. And then I'll usually add in a fun piece of jewelry because we want our clients to know that we have fun with style, but the idea is that it looks really pulled together. And a lot of our clients are coming to us for that. I'm moving up in my career. I've been doing this for ten years in terms of my look and my wardrobe, but I'm ready to step it up. I don't feel pulled together right now. And so that's where we step in. We give them the tools and the know-how to be able to do that.
Brogan: Can you describe the kind of key items though of what you have on now?
Vollmerhausen: I'm wearing a fringed short-sleeved top.
Brogan: Beautiful gray marled fabric.
Vollmerhausen: Yes, and I'm wearing sort of faded black jeans with a cropped flare, which is really hot this season, by the way.
Brogan: I did not know that. You've been listening to personal stylist Rosana Vollmerhausen. In a minute, she tells us what it's like to dig through someone else's closet. Can we talk about the actual services that you provide to clients? What are your sort of key things that you provide?
Vollmerhausen: There's three key things we provide. We provide closet work, which we call closet audit. We do personal shopping. And then the personal styling, which is actually creating the outfits. So, the closet audit is usually always where we start with clients. And that's that meeting at their home. And it's usually a three-hour block, and we go through their entire wardrobe.
Brogan: Is this a service that's common in your line of work?
Vollmerhausen: Yes, closet work is common in personal styling. Some stylists will just do the shopping, but I feel you can't effectively do the shopping if you don't do the closet work first and know what your client has. What they've been doing that hasn't been working, and what they need.
Brogan: What do you do when you're going through someone's closet? What are you looking for? What kind of conversations are you having?
Vollmerhausen: We have three criteria when we're going through a client's closet. First, if we see something is worn, usually like worn out and it really should go, then we'll suggest letting it go. The second thing, if it doesn't fit. It doesn't fit properly, if we think it can be tailored, we'll make those suggestions. If we think, you know, it's just not—it's not going to work, it's not worth the investment of tailoring, then we should let it go.
Brogan: So you're having them try things on as you pull them out?
Vollmerhausen: Absolutely, I joke that this job of mine is one of the only jobs, maybe besides like a doctor, where you meet someone and within 15 minutes they're disrobing.
Brogan: But you also get to play dress up with them, that seems fun.
Vollmerhausen: It's super fun. And I have to say that the fashion and the style can also be learned, coached. But really that connecting with people is so important.
You're in such an intimate space with them. You're in their homes. You're in their bedroom usually. And their closet. You're touching their clothes. You're going through their stuff. They have to trust you. They have to trust that you know what you're talking about and that you're there to help.
Brogan: How do you overcome that initial awkwardness?
Vollmerhausen: We usually sit down first. I don't jump right into the closet. So, we usually sit down for 15 minutes and it's a little bit of a get-to-know-you session where I ask them about what they like style-wise, their lifestyle, if they have kids.
Some of those tidbits of personal information that help me understand what they need on a daily basis with their wardrobe and it also breaks the ice. It gets them talking about themselves.
Brogan: What kind of response do you get from people when you start to say, well, maybe this should go, or this should go?
Vollmerhausen: It's a variety, it really is. Some of our clients are ready to purge, and we're there to basically give them permission to let things go.
They're already on that track. But then some clients really want a lot of information and discussion around why they're letting things go.
Brogan: Do you ever suggest that they throw something out and then realize that they have some sort of deep sentimental attachment to it?
Vollmerhausen: Sentimental clothing we don't get rid of. And the only marker we put is we don't want your entire closet to be sentimental. Then I think, okay, there's probably a little bit of an issue there. But we're not there to force anyone's hand to let things go.
We're there to provide ease to people's lives. So if somebody is resisting letting something go, we'll say to them we're suggesting you let it go for these three reasons. But if you're not ready, that's okay. What we maybe can do is create a section of your closet that's stuff that we have suggested you let go and you think about it. See if you wear it in the next six months, and if you haven't, maybe then at that point you can consider letting it go.
Brogan: Do you do a sort of second follow-up visit then down the road to see if they have let those things go?
Vollmerhausen: We do, usually we'll always follow up with our clients and after the closet audit, I would say 80 percent of the time they'll go shopping with us, so that's another conversation we have is, oh, if we introduce some new items to your wardrobe that take the place of these older items that you're not ready to let go of yet, then at that point you can let them go. So after the shopping there will be follow up where, okay, we've gotten you these pieces now. We're making outfits. Are you ready now to let some of these other pieces go?
Brogan: So this may because I have too many clothes in my own closet, but whenever I do my own little mini audit—
Vollmerhausen: I can tell you like clothing.
Brogan: I do. Whenever I do my kind of audit, whenever I go through my closet I find that there are things in there that I maybe should be wearing, but haven't worn for months or years in some cases.
Do you ever help people rediscover things that might be better than they realize that are in their closets?
Vollmerhausen: Yes, we call those orphan garments. So, they're garments that just kind of have been sitting there for a period of time, but you love them. You really love them. And you want to wear them, but you maybe just can't figure out how to do it. So, we have another service called Shop Your Closet, and that is when we come in and we work with what's in your closet. And we create outfits and it is about that rediscovery and reinvention of what you already own.
So we give you new ideas on how to style and mix and match and create outfits that you hadn't thought of.
Brogan: So, we have these closet services. What are your other kind of key pillars?
Vollmerhausen: Personal shopping. That can look a number of different ways, but the most popular way is the in-person shop. It's always a three-hour block and the client is only present for two hours.
We use the first hour to pull and set up fitting rooms. And we've done the pre-work in the closet audit where we know exactly what they need. They've seen their list of missing essentials, so they know budget-wise what we're going to be going for, what we're going to be shopping for. And we know the brands and the silhouette and all that kind of good stuff that we're going to pull for them to try on.
So it's a really streamlined way to shopping. Shopping can feel really overwhelming for a lot of people. You walk into Tyson's Corner and a lot of people just are lost. Where do I start? What do I choose? So, what we do is we're almost tour guides and we're helping you make smart decisions about your wardrobe.
Brogan: Do you have specific stores or shopping centers or what have you that you have relationships with?
Vollmerhausen: We have good relationships with a lot of boutiques in the area. We'll pull actually from boutiques and bring items to shopping appointments if that's something that the client wants.
So we are definitely connected with many great area local boutiques. And I have to say the D.C. boutique scene, I've seen it really develop as it has grown. And there are definitely some exciting retailers out there. So that's the first area we might tackle. We shop a lot at Tyson's Corner because time management they're paying for time so we want this to be an efficient process.
And so Tyson's has your Nordstrom, your Bloomingdale's, where I can tackle all of those missing essentials in a really relatively short period of time.
Brogan: Where you're shopping and what you're shopping for is also, I assume, highly dependent on the client's budget, on how much they need. So, are those conversations about the financial side of things ever complicated or difficult?
Vollmerhausen: No, the reason that is is because before we do any shopping we will send our client a style memo. And part of that style memo is a shopping list where everything is laid out and budgeted. And they have an opportunity to say, I can invest more here, or you know what, I need to cut back here. And that dictates what brands I'm going to pull, where we're going to shop. So all of that is vetted before we hit a retail floor.
So, no, there is never any of that awkwardness, because it has been talked about. And when we work with clients, and we're shopping for them, we're paying attention to their budget and at the end of fitting everything we're doing a little calculation for them to make sure that we've stayed according to their budget. And it might be two sessions of personal shopping. And then doing the outfit creation and we finish with a look book.
So when we create outfits for our clients, they have the option of receiving a look book from us.
Brogan: Is that the third pillar of your services?
Vollmerhausen: That's the third pillar, yes. So, we take pictures of every outfit we create for our client, and it's a head to toe look, accessorized everything. And we will put it together in a look book that you can fit in the top drawer of your dresser, take on travel, and it's all organized by different areas of your life—professional, weekend casual, weekend going out.
Some of our clients are on TV and need a TV section. So, it's all organized that way. You just flip through your look book really quickly, find an outfit, and you never have to wonder again what you're going to wear.
Brogan: How do you find new clients? What's the process of connecting with people?
Vollmerhausen: Referrals are our number one source of new client business. And if you think about it, our clients are kind of like our walking business cards because they look different, they're carrying themselves differently, and a lot of times their friends will ask them, hey, you look great. And they'll pass our information along.
So referrals are huge. We also get great press. We get great local press and that helps as well. Social media, of course, is great for building partnerships and that gives us more exposure. Last year we underwent a rebranding and we redid our website and we produced a brand video that really laid out for folks what we're about, our services, what we do. And I've seen almost a 20 percent increase in bookings just from that rebranding alone. So that has helped really cement who we are.
Brogan: When you're first meeting with a new client, do you talk over the phone or are you always having that first encounter in person?
Vollmerhausen: Always on the phone first. And we usually receive an email saying I'm interested in your services. And that's it.
And so we schedule a time to talk. We don't answer things over email in terms of services or pricing or any of that stuff. We hop on the phone and we listen to our client, our perspective client. We ask them some questions, find out what they need, and then we can provide the appropriate recommendations and give them estimates and all that good stuff.
Brogan: If you have someone who comes to you who doesn't know much about dressing well, that maybe knows that they want to, how do you communicate with them about the right ways to begin approaching that, to begin changing their mindset, or otherwise thinking about getting it right?
Vollmerhausen: Most of our clients don't about fashion, but they know something is off. And they know there is something they could be doing that's more than what they're doing. And so when we come in, part of that process is educating and talking to them about why this matters. And we liken it to self-care. It's getting your hair done. It's getting your nails done. It's going to get your teeth cleaned. It is just part of the process of caring for yourself and understanding that what you wear sends a message.
And that's that nonverbal cue that everyone sends. It says something about you. What are you saying with what you're wearing and how do we want to tweak it? How do we want to make it more authentic to you? There are certain uniforms for different places that you are in your life. What do you want to be wearing in those different situations?
Brogan: One of the ways that I think a lot of us will just start to form a basic connection with someone is to zero in on some article of clothing or some accessory that they're wearing, something about their look.
I like your shoes. I like your jacket. In your line of work where you're often responsible for totally revamping someone's look, if you don't necessarily find something to compliment on someone's look, do you have to look for other ways in to conversations?
Vollmerhausen: Even if I've run into people's closets before, where I really have felt we need to start over, we need to start from the ground and build back up. Usually there is a grain of something in there that gives me information, and it's positive information. It's not negative information. But there is something in there that tells me something about that person that we can expand on. You know, whether it's—even if it's something dated.
I had a client who had kept some Doc Martens, which are back in style, by the way. She had kept some Doc Martens from college and they'd just been kind of hanging out, gathering dust, and she's a mom now and she's a lawyer and the Doc Martens don't really fit in her daily life anymore, but they still give me information. They give me information about who she is, who she was before kids, who she was before she was the lawyer.
And we can kind of build on that, but maybe for today I would make it a little more grown up, a little more sophisticated. But it does. It gives me information.
Brogan: So the closet itself is legible in some ways.
Vollmerhausen: It is, it's like tea leaves.
Brogan: At what point do you start sizing up someone's look or thinking about how to change them for the better?
Vollmerhausen: It's in that first meeting. I should say that first in-person meeting.
They do get an email from us where they're encouraged to think about their personal style. And just so when we meet in person, at least it's something that they've been considering. Who do I like? Maybe some famous people. I like the way she puts herself together. So they start thinking about that. But really when we meet someone in person, that's when the conversation happens about what do you like and we'll throw descriptors out at them. We'll show them pictures.
And we even create mood boards with them, just to really get to what they like and what their personal style is so that we can make the right choices.
Brogan: If someone comes to you with a specific uniform, say someone at a law firm and they say I really want three pleats on my pants, or otherwise says something that just doesn't quite really fit what you think will look good for them, what you think will look good in that environment, how do you convince them that what they want is not necessarily what's right for them?
Vollmerhausen: Yep. First of all, I'm really passionate about pleats and ridding the world of pleated pants for men.
Brogan: I'm so delighted to hear that.
Vollmerhausen: So, there's always going to be a conversation with our clients.
We're not there to just lay down the law and just dictate without taking into consideration what they like and what they feel comfortable in. So, I'll give you an example. Any woman over 35 is going to start to have comfort and foot issues. She's going to tell you right off the bat, I like those cute shoes but I'm not going to be able to wear them. I'm not going to be able to wear them for six hours a day. And that needs to weigh in to what we choose for our clients.
I'm not going to choose a 4-inch stiletto. I'm going to choose for her the next best thing. I'm still going to get a cute shoe, but I'm going to take into consideration that it's got support. Maybe it isn't exactly visually the most fashion centric shoe, but it meets her needs and it still looks polished and put together.
Brogan: Because so much of what you do is about being attentive to the specifics of someone's body, you're going to be treading I assume in really sensitive territory a lot of the time—areas where people may have all kinds of complex feelings that they bring to the table.
How do you negotiate those sorts of feelings when you're working with someone?
Vollmerhausen: We really take judgment out of the process. And how we do that is how we describe people's bodies. The vocabulary we use isn't judgmental vocabulary. So, for example, if I have a client who is self-conscious about her hips. We will say your body type is you're curvier below the hips; the best way that we're going to approach it is by making sure your blouse hits really at your hip line. And what that's going to do is it's going to balance your silhouette.
And that's really what we do with clothing, too, is we kind of create this hourglass, for women at least, we create this hourglass silhouette that pretty much no woman has, but we can create it with clothing. And it's just balancing that silhouette. It's almost like a little bit of an equation. We're going to draw attention up, or we're going to draw it down to balance your silhouette.
Brogan: How often do you see a client once you've started to establish a relationship with them, if it's going to be a recurring thing?
Vollmerhausen: Typically that first time we work with a client is the most labor intensive period, because we are doing their closet. We're really starting fresh with them. So the shopping is a little more, their closet work, everything is a little more.
But then with regular clients, I'll see them usually at the season changes, so twice a year. We're just now in our craziest time of year, which is fall, because the seasons are changing and people are like, oh, I might need some new pieces. And those appointments are about refreshing. So we do a quicker consult with them and then we schedule the shopping. And it's really about adding pieces that are going to refresh and reinvent what is already in their closet.
Brogan: It sounds like the pricing of your services is dependent on what you're actually doing. So it varies from client to client?
We've been doing this for so long, we can give clients an estimate on the full spectrum if they want to know that, or each particular service, but we do charge hourly. And what that does is it gives our clients some flexibility. Everybody has got a budget. Some of our clients have an infinite budget. And some of our clients really need to be very careful with where they spend. And they want to work with a personal stylist, but they need to make sure that they're getting their money's worth.
So, they can book services in chunks. And hire us for a couple hours to do the first session, and then maybe a couple hours a month later. And really just tailor the experience to what they need and really what their budget constraints are.
Brogan: When you're out shopping for someone, who pays for the items that you end up purchasing? Is that something that goes on a corporate card and that you then get reimbursed for? Or does the client pay?
Vollmerhausen: The client pays. If we're in person, they're going to pay right away for their pieces after we've gone through what pieces are going to stay and which pieces are going to go back. They'll go ahead and check out themselves. So, they'll pay. If we're shopping for a client, which is when we actually go out to the retailers and shop and bring to the client's home the pieces that are off of their lists, so they never have to step foot in a retailer, we also will have the client's credit card for that.
And there's a number of steps we have to take, obviously, to make sure that that is secure.
Brogan: The internet increasingly has a lot of business models or fashion industry business models that are built around providing similar services remotely. Do you feel any pressure from those kind of businesses as they've started to develop?
Vollmerhausen: I don't, I think what we provide is a little bit different. And a lot of those businesses, they're designed to retrofit fashion and style to different people.
But it's very formulaic. So, what we offer that's a little different is that human connection. And we really are there for our client and we're providing this really specialized service to them which you really can't get with those internet services. I will say—it's kind of funny—sometimes my clients will order from those services and will make an appointment with me to review what they've gotten from those services.
Brogan: So some internet stylist sent them five things and you—
Vollmerhausen: Review them.
Brogan: Have to decide which two to keep?
Brogan: What's the most satisfying about doing this work for you?
Vollmerhausen: Our client's reactions and I've been doing this long enough where I have some clients that I've worked with through so many different momentous parts of their lives, from their wedding, to their first child, to a promotion at work. And really seeing the evolution of their style through those different changes in life.
And really being a small part of their journey. That for me is the most gratifying part of my job.
Brogan: As you work with someone over the months, seasons, years, do you ever find that they start to acquire their own sense of style? That they're weaning themselves from you?
Vollmerhausen: Some do. I'll have some clients where we go through the whole wardrobe overhaul and I won't hear from them.
They feel pretty good. They've gotten some education on the brands that work for them. They don't need to reinvent the wheel every season. They know, oh, this brand in this size fits great. And I love it. So, they go back and repeat the next season, or if something is worn out. What will happen is sometimes they'll come back when something has happened. Like oh, I've lost some weight. Things just aren't fitting.
I need to refresh again. So, that is one type of client. But then I have a lot of clients, we have a stylist-on-call package for our clients who really like to keep in touch with us. Even though we've done the look book and all of that work together, they still want to make sure do these shoes go with this dress and that sort of question.
Brogan: They send you like a cell phone picture or something?
Vollmerhausen: Exactly. They send us the selfie and they get immediate feedback. So, they have a stylist really at their fingertips at all times.
Brogan: What advice would you have for someone who wants to get in to styling?
Not that we're looking to create competitors for you. But if someone was like I want to do this, where would they begin?
Vollmerhausen: We get that question all the time. I probably field ten emails a week from different people who are interested in being a personal stylist and want to shadow us or want to know how do I start.
And I always think a great place to start is on the retail floor. That's where I started. I started in retail. And what that did for me is it gave me invaluable experience in customer service and really working one-on-one and really trying to read people and understand what their needs are and trying to meet those needs. So, I was always say there's no better training ground than the retail floor if you want to get into this business.
I think one of the misconceptions, and I mentioned this early on, about personal styling is that it is champagne and caviar and we're just shopping and, it is, it's great fun. But I don't want to lose the fact that there is that human element to what we do. We're not talking about New York Fashion Week here. We're talking about real people, their style, and how that impacts how they move forward in their lives.
Brogan: Thanks for listening to this episode of Working. I'm Jacob Brogan and I own way too many clothes. We'd love to hear your thoughts about the podcast. Our email address is working@slate.com. We read those emails and we'd love to hear from you. You can listen to all of our past episodes at Slate.com/Working. Working is produced and edited by Mickey Capper, who will be updating his wardrobe any day now.
Thanks to Caroline Cunningham at Washingtonian who helped us find Rosana Vollmerhausen. Our executive producer is Steve Lickteig and the chief content officer of the Panoply Network is Andy Bowers.
Brogan: In this Slate Plus extra, personal stylist Rosana Vollmerhausen shares her own thoughts about the clothes that people wear in Washington, D.C.
So, do you have any thoughts on style here in Washington, D.C., more generally? Is this a stylish town, or does it need help?
Vollmerhausen: I have a lot of thoughts about this. I get kind of defensive when people bag on D.C. for having no style. And you hear it all the time. There are scathing articles out there about how awful D.C. style is. And I do get a little bit defensive about it, because first off, I don't think it's true. And I feel like a lot of people when they think of D.C., they think of the government part of the town.
And they don't really look at really the locals, people who are from D.C. and the different areas of D.C. And, honestly, there is some amazing style, amazing street style. If I were to define what I think of as D.C. street style, it's funky. It's funky, it's a little sporty, it's urban, and I love it. So, I do. I definitely get defensive about DC not having style.
Vollmerhausen: Okay, the Hill. So, let's talk about government.
There are uniforms, you know, and we talked about uniforms—and when I say uniform, I don't mean a Catholic school girl uniform, but what's appropriate for different situations, whether they be work, or social. And they give cues. So, people in D.C. are often in professional settings, so their look has to be tailored, pulled together. A lot of times that's going to mean a blazer jacket, and some dress trousers, or a skirt, or something of that nature.
So to think that people in D.C. are really going to push it and wear some sort of like latex body suit to push the boundaries of fashion is kind of comical to me.
Brogan: I would hope that they wouldn't.
Vollmerhausen: Yeah, and Robin Givhan, she said it wonderfully where there is such a small segment of the population that's really going to do that style that way anyways, where they're going to really go avant-garde and just push it.
By and large, and it's not just D.C. It's anywhere where you're going to be in a professional setting, you're going to dress a certain way.
Brogan: Well, thank you so much for taking the time to talk with us today.
Vollmerhausen: Thank you.
Brogan: This was a pleasure.