Drive-By Texting
Parents never come to the door to pick up their kids from our house—they just text.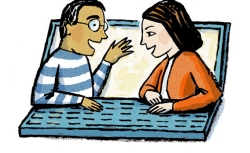 Slate's tech columnist Farhad Manjoo and Dear Prudence advice columnist Emily Yoffe debate the question: Should parents always come to the door and introduce themselves or chat when picking up their kids from a playmate's house? A father laments that texts have taken the place of face-to-face parental interaction in his neighborhood.
What's your opinion about this week's manners dilemma?
You can play any episode of Manners for the Digital Age using the player below:
Podcast produced by Melonyce McAfee.