Seizing My Social Network
A worker is annoyed she has to use her Facebook and Twitter pages to promote the company's interests.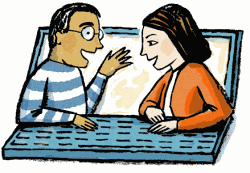 Slate's tech columnist Farhad Manjoo and Dear Prudence advice columnist Emily Yoffe debate the question: Should employers commandeer your social network to promote their products? This week's letter writer wants to tell her boss that her Facebook page isn't a billboard.
What's your opinion about this week's manners dilemma?

You can play any episode of Manners for the Digital Age using the player below:
Podcast produced by Melonyce McAfee.