You With the Earbuds, Turn It Down!
What to do when you're trapped next to someone whose music is bleeding out from their earbuds? Plus, should there be a time limit at the Redbox machine?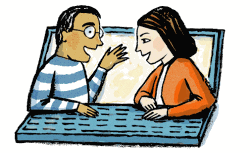 This week, Farhad Manjoo and Emily Yoffe discuss the etiquette of asking your fellow commuter to turn down the music. Plus, they discuss whether there should be a time limit for choosing movies at a Redbox machine. Listen to Episode No. 35 using the audio player below or by opening this player in a new tab.


What's your opinion about this week's manners dilemma?
You can play any episode of Manners for the Digital Age using the player below: