Call Me Back When You're Out of the Bathroom
Farhad Manjoo and Emily Yoffe debate: Is it rude to conduct your business while "conducting your business"?
Posted Tuesday, Nov. 29, 2011, at 1:16 PM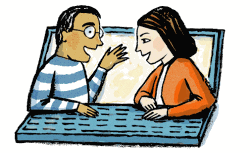 Illustration by Robert Neubecker.

This week, Farhad Manjoo and Emily Yoffe discuss the etiquette of taking a conversation into the toilet, literally. Listen to Episode 31 using the audio player below or by opening this player in a new tab.
What's your opinion about this week's manners dilemma?
You can play any episode of Manners for the Digital Age using the player below:
You'll find previous episodes here:
MYSLATE