Sorry, You Can't Be My Facebook Friend
Farhad Manjoo and Emily Yoffe debate the question: Is there any good way to tell colleagues that you have a no-Facebook-friends policy at work?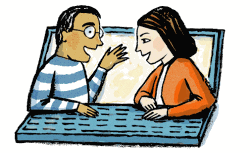 This week, Farhad Manjoo and Emily Yoffe discuss the etiquette of refusing to friend co-workers on Facebook. Listen to Episode 29 using the audio player below or by opening this player in a new tab.
What's your opinion about this week's manners dilemma?
You can play any episode of Manners for the Digital Age using the player below:
You'll find previous episodes here:
TODAY IN SLATE
Medical Examiner
Here's Where We Stand With Ebola
Even experienced international disaster responders are shocked at how bad it's gotten.