Hang Up and Listen: The Drop Kick Me Jesus Edition
Slate's sports podcast on Usain Bolt vs. Justin Gatlin, Baylor's handling of a football player's sexual assault, and Arian Foster's atheism.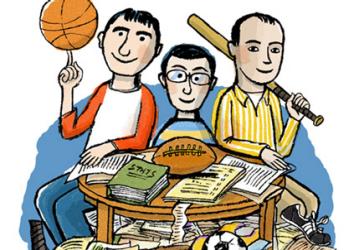 Listen to Hang Up and Listen with Stefan Fatsis, Josh Levin, and Mike Pesca by clicking the arrow on the audio player below:
In this week's episode of Slate's sports podcast Hang Up and Listen, Stefan Fatsis, Josh Levin, and Mike Pesca talk about Usain Bolt's victory over Justin Gatlin in the 100 meters at the track and field world championships, and whether it represents the triumph of good over evil in sports. They also discuss the fallout from the sexual assault conviction of Baylor football player Sam Ukwuachu and the responsibilities of coaches when their players transgress. Finally, they examine the place of religion in sports, with Houston Texans running back Arian Foster declaring his atheism.
Here are links to some of the articles and other items mentioned on the show:
On this week's Slate Plus bonus segment, Stefan Fatsis, Josh Levin, and Mike Pesca discuss the Falcoholic and other possible names for sports team websites. Visit slate.com/hangupplus and try it free for two weeks.
Podcast production and edit by Zack Dinerstein.