Hang Up and Listen: The NBA Meets American Ninja Warrior Edition
Slate's sports podcast on the Basketball Tournament, women coaching men's sports, and the book Wax Pack.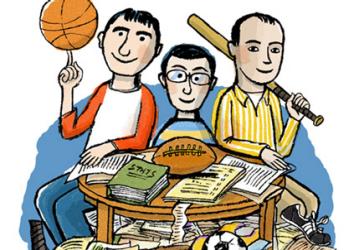 Listen to Hang Up and Listen with Stefan Fatsis, Josh Levin, and Mike Pesca by clicking the arrow on the audio player below:
In this week's episode of Slate's sports podcast Hang Up and Listen, Stefan Fatsis, Josh Levin, and Mike Pesca discuss the Basketball Tournament, an open, single-elimination contest for a winners-take-all prize of $1 million. Then, they are joined by Nancy Lieberman, the former head coach of the NBA D-League's Texas Legends, to talk about Becky Hammon's success with the San Antonio Spurs and what it means for the future of female coaches in the NBA. Finally, they interview Brad Balukjian about his attempt to track down 14 baseball players from a pack of 1986 Topps baseball cards.
Here are links to some of the articles and other items mentioned on the show:
Emma's Tim Stoddard: Ethiopian runner Genzebe Dibaba just broke the 22-year-old world record in the 1,500 meters. How much faster can we go?
Podcast production and edit by Mike Vuolo. Our intern is Emma Zehner.