Hang Up and Listen: The Not-So-Menacing Red Menace Edition
Slate's sports podcast on the death of Dean Smith, the rise of U.S. ski racing, and a Soviet view on the Miracle on Ice.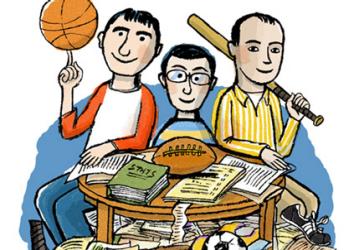 Listen to Hang Up and Listen with Stefan Fatsis, Josh Levin, and Mike Pesca by clicking the arrow on the audio player below:
This episode is brought to you by The Jinx: The Life and Deaths of Robert Durst, the new documentary series from HBO, airing Sundays at 8 p.m. only on HBO.
Help Slate continue to make great podcasts about the things you love and the things you didn't even know you love by taking a few moments to complete the Slate Podcast Survey.
In this week's episode of Slate's sports podcast Hang Up and Listen, Stefan Fatsis, Josh Levin, and Mike Pesca are joined by Sports Illustrated's Alexander Wolff to talk about the death of legendary North Carolina basketball coach Dean Smith. Nathaniel Vinton, author of the book The Fall Line: How American Ski Racers Conquered a Sport on the Edge, also joins to discuss the Alpine skiing world championships in Colorado. Finally, filmmaker Jonathan Hock joins for a conversation about his new documentary, Of Miracles and Men, which examines the U.S. hockey team's triumph in 1980 from the perspective of its Soviet opponents.
Here are links to some of the articles and other items mentioned on the show:
Hang Up and Listen's weekly bandys:
Mike's bandy: The time Dean Smith took a basket away from North Carolina freshman Clifford Rozier.
On this week's Slate Plus bonus segment, Stefan Fatsis, Josh Levin, and Mike Pesca discuss Diana Taurasi's decision to sit out the WNBA season at the behest of her Russian club team. Slate Plus members get an ad free version of this podcast with bonus segments. Visit slate.com/hangupplus and try it free for two weeks.
Podcast production and edit by Mike Vuolo.