Hang Up and Listen: The Voice of God Edition
Slate's sports podcast on the legacy of NFL Films' Steve Sabol, Miguel Cabrera's Triple Crown chances, and a bizarre cricket scandal.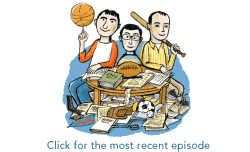 Listen to "Hang Up and Listen" with Stefan Fatsis, Josh Levin, and Mike Pesca by clicking the arrow on the audio player below:
Hang Up and Listen is also brought to you by Stamps.com. Click on the radio microphone and enter HANGUP to get our $110 bonus offer.
In this week's episode of Slate's sports podcast Hang Up and Listen, Stefan Fatsis, Josh Levin, and Mike Pesca are joined by Jonathan Hock to discuss NFL Films president Steve Sabol's role as football's leading mythmaker. They also discuss Miguel Cabrera's run at the Triple Crown, Melky Cabrera's decision to disqualify himself from the batting race, and the Pittsburgh Pirates' collapse. Lastly, they speak with the Bugle's Andy Zaltzman about his love of cricket and the bizarre texting saga that has rocked the sport.
Here are links to some of the articles and other items mentioned on the show:
Podcast production and edit by Mike Vuolo. Our intern is Eric Goldwein.