Hang Up and Listen: The LeBron vs. the Durantula Edition
Slate's sports podcast on Heat-Thunder, Nadal-Djokovic, and the horrendous Pacquiao-Bradley decision.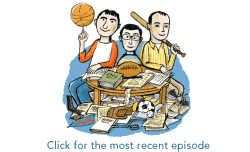 Listen to "Hang Up and Listen" with Stefan Fatsis, Josh Levin, and Mike Pesca by clicking the arrow on the audio player below:
This episode of Hang Up and Listen is brought to you by Bing, which now integrates Facebook and Twitter with your search results.
This episode is also brought to you by Stamps.com. Go to Stamps.com, click on the radio microphone, and enter HANGUP to get our $110 bonus offer.
In this week's episode of Slate's sports podcast Hang Up and Listen, Stefan Fatsis, Josh Levin, and Mike Pesca talk about how the Heat and the Thunder got past the Celtics and the Spurs and the LeBron James / Kevin Durant match-up in the NBA Finals. They're also joined by Sports Illustrated's S.L. Price to talk about Rafael Nadal's record-setting seventh French Open title and Novak Djokovic's failed attempt to win four grand slams in a row. Finally, they dissect the horrible decision in Saturday night's boxing match between Manny Pacquiao and Timothy Bradley.
Here are links to some of the articles and other items mentioned on the show:
Hang Up and Listen's weekly Jinkees:
Podcast production and edit by Mike Vuolo.