Hang Up and Listen, the Early Winter Classic Edition
Listen to Slate's podcast about the week in sports.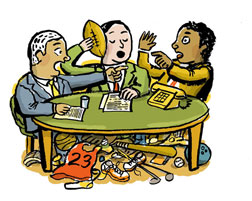 Here are links to some of the articles and other items mentioned on the show:
Hang Up and Listen's weekly Obies:
Podcast production and editing by Abdullah Rufus.
Posted on Oct. 19 by Josh Levin at 4:09 p.m.
Listen to "Hang Up and Listen" with Stefan Fatsis, Josh Levin, and Mike Pesca by clicking the arrow on the audio player below: