Hang Up and Listen, the Early Winter Classic Edition
Listen to Slate's podcast about the week in sports.
Updated Monday, Oct. 26, 2009, at 4:42 PM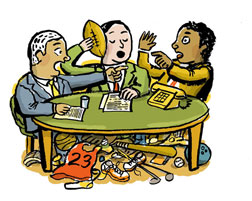 Here are links to some of the articles and other items mentioned on the show:
Hang Up and Listen's weekly Obies:
Podcast production and editing by Abdullah Rufus.
Posted on Oct. 19 by Josh Levin at 4:09 p.m.
Listen to "Hang Up and Listen" with Stefan Fatsis, Josh Levin, and Mike Pesca by clicking the arrow on the audio player below:
MYSLATE