The "11 Hours and She Didn't Flinch" Edition
Listen to Slate's show about Hillary Clinton testifying on Benghazi, Jeb Bush fighting with Donald Trump over George W. Bush, and disquieting claims about the dire state of the Democratic Party.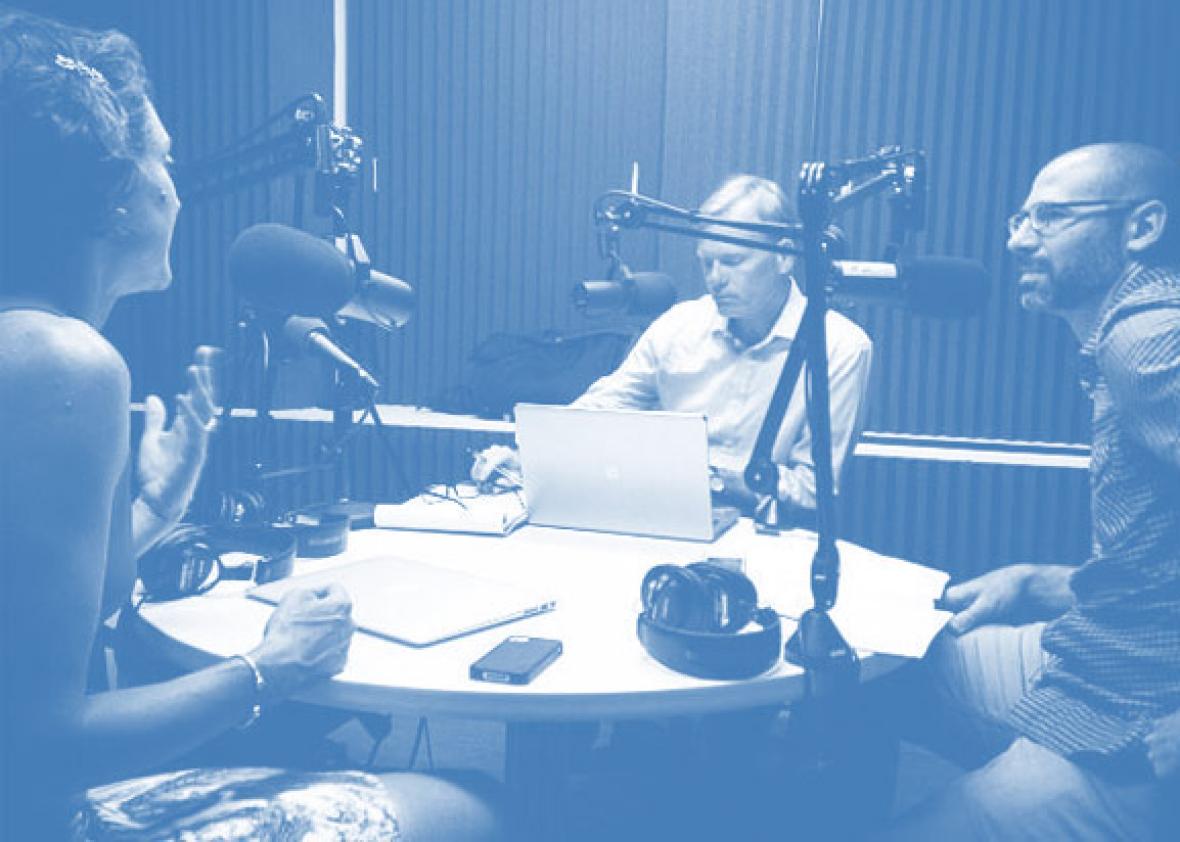 Become a fan of the Political Gabfest on Facebook. We post to the Facebook page throughout the week, so keep the conversation going by joining us there. Or follow us @SlateGabfest (#heygabfest)! The email address for the Political Gabfest is gabfest@slate.com. (Email may be quoted by name unless the writer stipulates otherwise.)
The Slate Political Gabfest is sponsored by Stamps.com. Buy and print official U.S. postage using your own computer and printer, and save up to 80 percent compared with a postage meter. Sign up for a four-week trial and get a $110 bonus offer, including postage and a digital scale, when you visit stamps.com and use the promo code GABFEST.
And by Bonobos. Bonobos takes the pain and hassle out of finding stylish clothes that fit. For a limited time, all new customers can get 20 percent off their first order at Bonobos.com/gabfest. Discover the difference that an expertly crafted, better-fitting wardrobe can make.
To listen to the discussion, use the player below:
On this week's Slate Political Gabfest, Emily Bazelon, John Dickerson, and David Plotz discuss Hillary Clinton's commanding performance before the House Benghazi Committee and what it means for the 2016 election, Jeb Bush's continuing fight with Donald Trump over George W. Bush and whether it can revive his faltering campaign, and the disquieting claims about the dire state of the Democratic Party and whether Democrats can rebound from their historic losses at the state and local level.
Here are some of the links and references mentioned during this week's show:
If you're a fan of Slate's podcasts, you can't miss out on our one-night-only show in New York City on Nov. 16! We're combining Slate's most popular personalities from the Political Gabfest, the Culture Gabfest, and Hang Up and Listen into a blowout event called "Superfest on Broadway" at Manhattan's Town Hall. After the blowout event, we will be holding an exclusive after-party with the talent, Slate staff and Panoply partners at an undisclosed location. Only 50 tickets will be sold to this exclusive event, which will include drinks and hors d'oeuvres. The venue will be within walking distance of the live show and an email with location will go out two weeks prior to attendees. You can buy your show ticket or a show AND after-party package by visiting slate.com/superfestnyc. Doors open at 6 p.m. for the show and 9 p.m. for the after-party. If you are a Slate Plus member, you will receive 30 percent off your ticket purchase. Use your Upcoming Events tool in the Slate Plus dashboard on the right side of the Slate Plus home page to receive your individualized discount code.
Topic ideas for next week? You can tweet suggestions, links, and questions to @SlateGabfest (#heygabfest). (Tweets may be quoted by name unless the writer stipulates otherwise.)
Podcast production by Jocelyn Frank. Links compiled by Tarik Barrett.