The "Giving Tree" Bonus Segment
Emily Bazelon, Jamelle Bouie, and David Plotz discuss the resignation of House Speaker John Boehner and what it means for his replacement.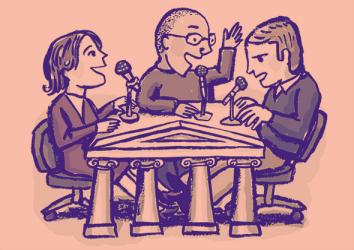 Last week, Speaker of the House John Boehner announced that he would resign from his post and leave Congress by the end of October. In this Political Gabfest extra, hosts Emily Bazelon, Jamelle Bouie, and David Plotz gather to talk about the Boehner's last days, the party politics behind his emotional decision, and his resignation's influence on the upcoming presidential election. Will Boehner's emotional goodbye leave a clean slate for his successor, or will conservatives continue to call the shots?
Did you know that Slate Plus members can listen to weekly bonus segments on the Political Gabfest, the Culture Gabfest, Hang Up and Listen, and Mom and Dad Are Fighting? As a free preview of Slate's membership program, here's a roundup of some Slate Plus bonus segments from the past week:
On the regular, nonbonus episode of the Political Gabfest, Emily Bazelon, John Dickerson, and David Plotz shared mixed feelings over the gossip surrounding U.K. Prime Minister David Cameron and an unseemly Oxford initiation ritual.
Here's what the other podcasts spoke about in their Slate Plus bonus segments from the past week:
On the Culture Gabfest, hosts Stephen Metcalf, Dana Stevens, and Julia Turner chatted live from Chicago! The Gabfesters spoke with a docent from their Chicago Architecture Foundation river cruise about the city's aesthetic and its ever-changing skyline.
On Mom and Dad Are Fighting, hosts Allison Benedikt and Dan Kois hear from Slate politics and foreign affairs editor Will Dobson, who seeks advice on teaching his children the importance of family names.
To learn more about signing about up for Slate Plus, visit Slate.com/Plus.
Update, Sept. 28, 2015: The Political Gabfest extra was originally listed as for Slate Plus members only and published in the members-only section of Slate. It is now available to all Slate readers.