The You're No Frank Underwood Gabfest
Listen to Slate's show about the uprising in Kiev, a failed unionization in Tennessee, and Season 2 of House of Cards.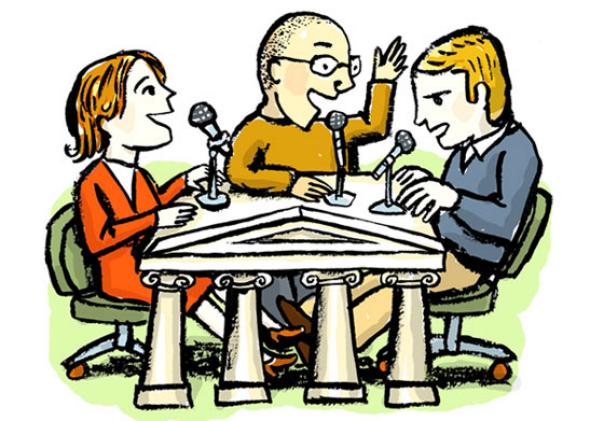 Become a fan of the Political Gabfest on Facebook. We post to the Facebook page throughout the week, so keep the conversation going by joining us there. Or follow us @SlateGabfest!
To listen to the discussion, use the player below:
We'll be live at Sixth & I in Washington on March 6! Tickets.
And the Audio Book Club will be live in Seattle on Feb. 27. Special guest Hugh Howey will join Slate's Dan Kois and Hanna Rosin to discuss Kurt Vonnegut's Slaughterhouse-Five. Tickets.
On this week's Slate Political Gabfest, Emily Bazelon, John Dickerson, David Plotz, and special guest Will Dobson discuss why Ukrainians are rioting, why Volkswagen employees rejected the United Automobile Workers, and why everyone in Washington is watching House of Cards.
Here are some of the links and references mentioned during this week's show:
Emily chatters about the NFL's investigation of the Miami Dolphins' bullying culture.
John chatters about Obama dropping a request to change how cost-of-living increases are formulated—he says it's proof that budget brinksmanship is over.
Topic ideas for next week? You can tweet suggestions, links, and questions to @SlateGabfest. The email address for the Political Gabfest is gabfest@slate.com. (Email may be quoted by name unless the writer stipulates otherwise.)
Podcast production by Mike Vuolo. Links compiled by Rebecca Cohen.