The Putin Ex Machina Gabfest
Listen to Slate's show about Obama's swerving Syria policy, the New York City mayoral primary, and a twerking hoax video.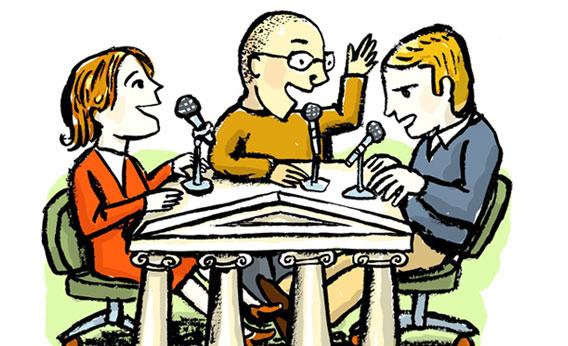 Become a fan of the Political Gabfest on Facebook. We post to the Facebook page throughout the week, so keep the conversation going by joining us there. Or follow us @SlateGabfest!
To listen to the discussion, use the player below:
Live DoubleX Gabfest! Washington, D.C., Sept. 18, 7 p.m. Tickets.
Slate is looking for an in-house lawyer! If you know media law and technology, apply here.
On this week's Slate Political Gabfest, Emily Bazelon, John Dickerson, and David Plotz discuss whether John Kerry's accidental Syria plan can work, and what that means for international law. They also discuss whether Bill de Blasio's victory in the New York City Democratic mayoral primary is a rejection of Mayor Michael Bloomberg and his policies. Finally, they consider whether hoaxes like Jimmy Kimmel's twerking fail video are ruining the Internet for everyone.
Here are some of the links and references mentioned during this week's show:
Vladimir Putin rakes President Obama over the coals for promoting American exceptionalism in a New York Times op-ed.
If the Syria deal goes through, it will be a vindication of the force of international law, writes Emily.
A campaign ad for New York City mayoral candidate Bill de Blasio starring the candidate's son highlights the differences between de Blasio and Mayor Michael Bloomberg.
Sixty-one percent of New Yorkers say empathy is the most important quality for a new mayor, a New York Times-Siena College poll found.
The "Worst Twerk Fail EVER"—a YouTube video that went viral last week—was staged by Jimmy Kimmel. Kimmel's prank illustrates everything that's wrong with viral marketing, Daniel Engber argues.
John chatters about NASA's Instagram of an airborne frog.
David wonders whether people whose own lives are a mess make better advice columnists. Weigh in on the Gabfest Facebook page!
Topic ideas for next week? You can tweet suggestions, links, and questions to @SlateGabfest. The email address for the Political Gabfest is gabfest@slate.com. (Email may be quoted by name unless the writer stipulates otherwise.)
Podcast production by Mike Vuolo. Links compiled by Rebecca Cohen.