The Washington on the Verge of a Nervous Breakdown Gabfest
Listen to Slate's show about mass shootings and gun control, the looming government shutdown, and the pope's startling interview.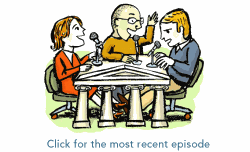 Become a fan of the Political Gabfest on Facebook. We post to the Facebook page throughout the week, so keep the conversation going by joining us there. Or follow us @SlateGabfest!
To listen to the discussion, use the player below:
Slate is looking for an in-house lawyer! If you know media law and technology, apply here.
On this week's Slate Political Gabfest, Emily Bazelon, John Dickerson, and David Plotz discuss why the massacre at Washington's Navy Yard hasn't prompted serious discussion of gun control laws. They also consider Republican threats to shut down the government if Obamacare isn't defunded. Finally, they discuss whether Pope Francis' comment that the Catholic church spends too much energy opposing abortion and homosexuality signals a new direction for the Vatican.
Here are some of the links and references mentioned during this week's show:
John chatters about John Feehery's essay "This Other Town," about the victims of the Navy Yard shooting.
Topic ideas for next week? You can tweet suggestions, links, and questions to @SlateGabfest. The email address for the Political Gabfest is gabfest@slate.com. (Email may be quoted by name unless the writer stipulates otherwise.)
Podcast production by Mike Vuolo. Links compiled by Rebecca Cohen.