The "Is Hillary Too Old?" Gabfest
Listen to Slate's show about immigration reform's path through the House, Hillary Clinton's age, and the legacy of Gettysburg.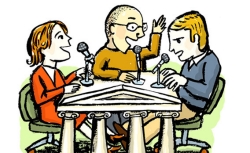 Become a fan of the Political Gabfest on Facebook. We post to the Facebook page throughout the week, so keep the conversation going by joining us there. Or follow us @SlateGabfest.
To listen to the discussion, use the player below:
Chicago Live Show: Wednesday, July 10, 7 p.m., at the Thorne Auditorium on the Chicago campus of Northwestern University. Tickets and additional information here. Now with special guest Peter Sagal, host of NPR's Wait Wait … Don't Tell Me!
On this week's Slate Political Gabfest, John Dickerson and David Plotz are joined by special guest Garance Franke-Ruta, senior editor at the Atlantic. They discuss immigration reform's path through the House of Representatives, Hillary Clinton's age, and the 150th anniversary of the Battle of Gettysburg.
Here are some of the links and references mentioned during this week's show:
Topic ideas for next week? You can tweet suggestions, links, and questions to @SlateGabfest. The email address for the Political Gabfest is gabfest@slate.com. (Email may be quoted by name unless the writer stipulates otherwise.)

Podcast production by Mike Vuolo. Links compiled by Jeff Friedrich.