The "If This Be Treason, Make the Most of It" Gabfest
Listen to Slate's show about Edward Snowden's status as hero or traitor. Plus, you gotta fight for your right to be house proud.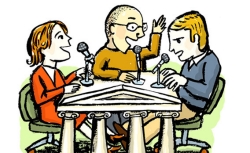 Become a fan of the Political Gabfest on Facebook. We post to the Facebook page throughout the week, so keep the conversation going by joining us there. Or follow us @SlateGabfest.
To listen to the discussion, use the player below:
On this week's Slate Political Gabfest, Emily Bazelon, John Dickerson, and David Plotz discuss the oversight of the National Security Agency's secret intelligence-gathering efforts and Edward Snowden's status as hero or traitor. Plus, they discuss a New York Times photo tour of Beastie Boy Mike D's new home in Brooklyn—a piece that incited a rousing email debate within the Slate office.
Here are some of the links and references mentioned during this week's show:
Topic ideas for next week? You can tweet suggestions, links, and questions to @SlateGabfest. The email address for the Political Gabfest is gabfest@slate.com. (Email may be quoted by name unless the writer stipulates otherwise.)
Podcast production by Mike Vuolo. Links compiled by Jeff Friedrich.