The I'm Working From Home Gabfest
Listen to Slate's show about life after the sequester, the Supreme Court's review of the Voting Rights Act, and Yahoo's ban on working from home.
Become a fan of the Political Gabfest on Facebook. We post to the Facebook page throughout the week, so keep the conversation going by joining us there. Or follow us @SlateGabfest!
To listen to the discussion, use the player below:
Live simulcast at New York Gabfest—New York, March 21 at 92Y. Tickets for the main stage are sold out, but you can still attend a live simulcast at 92Y. Participate in the audience Q&A; meet John, Emily, and David after the show; and attend Emily's book signing. Tickets and additional information available here.
On this week's Slate Political Gabfest, John Dickerson, Emily Bazelon, and David Plotz discuss the sequester deadline's arrival, the Supreme Court challenge to the Voting Rights Act, and Yahoo's decision to ban working at home.
Here are some of the links and references mentioned during this week's show: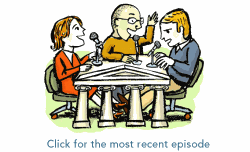 Topic ideas for next week? You can tweet suggestions, links, and questions to @SlateGabfest. The email address for the Political Gabfest is gabfest@slate.com. (Email may be quoted by name unless the writer stipulates otherwise.)
Podcast production by Mike Vuolo. Links compiled by Jeff Friedrich.