The $1 Trillion Gabfest
Listen to Slate's show about the embattled Hagel nomination, the platinum coin option, and Obama's administration full of men.
Become a fan of the Political Gabfest on Facebook. We post to the Facebook page throughout the week, so keep the conversation going by joining us there. Or follow us @SlateGabfest!
To listen to the discussion, use the player below:
On this week's Slate Political Gabfest, John Dickerson, Emily Bazelon, and David Plotz discuss the embattled Defense secretary nomination, the platinum coin solution to the debt ceiling, and gender parity in the Obama administration.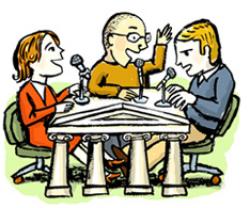 Here are some of the links and references mentioned during this week's show:
John chatters about the death of Richard Ben Cramer, the author of What It Takes.
Topic ideas for next week? You can tweet suggestions, links, and questions to @SlateGabfest. The email address for the Political Gabfest is gabfest@slate.com. (Email may be quoted by name unless the writer stipulates otherwise.)
Podcast production by Mike Vuolo. Links compiled by Jeff Friedrich.