The Last Shot Gabfest
Listen to Slate's show about the political legacy of the Newtown shootings, Boehner's Plan B, and the legacy of Robert Bork.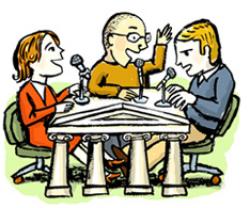 To listen to the discussion, use the player below:
On this week's Slate Political Gabfest, Emily Bazelon, John Dickerson, and David Plotz discuss how America might confront gun violence in the wake of the latest mass shooting tragedy in Newton, Conn. They also update the latest offers exchanged between President Obama and Speaker Boehner in the fiscal cliff negotiations, and discuss the legacy of the late Supreme Court nominee Robert Bork.
Here are some of the links and references mentioned during this week's show:
Topic ideas for next week? You can tweet suggestions, links, and questions to @SlateGabfest. The email address for the Political Gabfest is gabfest@slate.com. (Email may be quoted by name unless the writer stipulates otherwise.)
Podcast production by Michael Vuolo. Links compiled by Jeff Friedrich.