The Lemon, Wet, Good Gabfest
Listen to Slate's show about Supreme Court leaks and health care fallout, the hot summer, and political vacations.
Become a fan of the Political Gabfest on Facebook. We post to the Facebook page throughout the week, so keep the conversation going by joining us there.
On this week's Slate Political Gabfest, David Plotz, Emily Bazelon, and special guest David Weigel discuss the Supreme Court leaks and other Affordable Care Act fallout, the politics of record-breaking heat, and political vacations.
Here are some of the links and references mentioned during this week's show: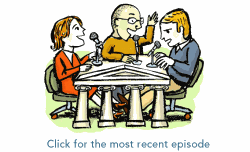 Emily chatters about SCOTUSblog's rundown of how Fox, CNN, and others got it wrong. And she apologizes to David Weigel.

David Weigel chatters about Alan Moore's anger and a controversy in the comic book scene.

David Plotz remembers Armando Montano, a listener and journalist who was found dead in Mexico City last week. David also recommends Dan Carlin's "Hardcore History" podcast.
The Gabfest says goodbye and thanks to intern Aviva Shen! Read Aviva's future work at ThinkProgress.
The email address for the Political Gabfest is gabfest@slate.com. (Email may be quoted by name unless the writer stipulates otherwise.)
Podcast production by Andrew Bouvé and Dale Willman. Links compiled by Jeff Friedrich.