All the People Who Are Happier Than You Gabfest
Listen to Slate's show about the presidential race, voter ID laws, and political happiness.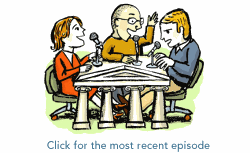 To listen to the discussion, use the player below:
On this week's Slate Political Gabfest, David Plotz, Emily Bazelon, and John Dickerson discuss the latest news from the presidential race, the proliferation of voter ID laws, and the relative happiness of conservatives and liberals.
Here are some of the links and references mentioned during this week's show:
Emily chatters about the latest findings in Stand v. Sit, as covered in Slate.
Topic ideas for next week? You can tag suggestions, links, and questions on Twitter with #plsGabthis.
The email address for the Political Gabfest is gabfest@slate.com. (Email may be quoted by name unless the writer stipulates otherwise.)
Podcast production by Andrew Bouvé and Dale Willman. Links compiled by Jeff Friedrich.