The "Yes, You Too Can Win Dinner With Donald Trump" Gabfest
Listen to Slate's show about Romney and Trump, Obama's drone war, and fixing the Constitution.
Become a fan of the Political Gabfest on Facebook. We post to the Facebook page throughout the week, so keep the conversation going by joining us there.
To listen to the discussion, use the player below:
Come to our next live show at the Yale Center for British Art in New Haven, Conn. on June 27 at 5:30 p.m. Email gabfest@slate.com to RSVP for free.
On this week's Slate Political Gabfest, David Plotz, Emily Bazelon, and John Dickerson discuss Mitt Romney's embrace of outspoken birther Donald Trump, Obama's growing drone program, and how to fix the Constitution.
Here are some of the links and references mentioned during this week's show:
John's Slate piece on Mitt Romney's official clinching of the Republican nomination.
A Gallup poll from June 2011 finding that 67 percent of Americans would vote for a gay presidential candidate but only 49 percent would vote for an atheist.
The New York Times piece on Obama's "kill list."
Will Saletan's Slate piece on the kill list and the drone war.
Sanford Levinson's New York Times Op-Ed, "Our Imbecilic Constitution."
Emily's Slate project asking for proposals to fix the Constitution.
Adam Liptak's New York Times article on the waning influence of the U.S. Constitution on the world.
A Slate series on possible amendments to improve the Constitution.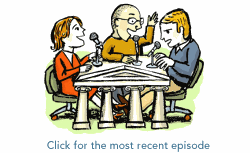 John chatters about a rare interview with Neil Armstrong by an Australian accounting group.
Emily chatters about the First Circuit unanimous ruling that the Defense of Marriage Act (DOMA) violates equal protection.
The email address for the Political Gabfest is gabfest@slate.com. (Email may be quoted by name unless the writer stipulates otherwise.)
Podcast production by Andrew Bouvé and Dale Willman. Links compiled by Aviva Shen.