The Post-Solstice, Dictator Will Crush You Now Gabfest
Listen to Slate's show about the Mitt Romney's religion; Will Dobson's new book, The Dictator's Learning Curve; and UVA President Teresa Sullivan's ouster.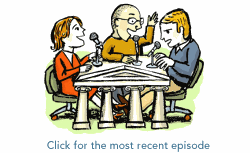 Become a fan of the Political Gabfest on Facebook. We post to the Facebook page throughout the week, so keep the conversation going by joining us there.
To listen to the discussion, use the player below:
Don't miss our live show next week at the Arts and Ideas Festival in New Haven, Conn., on June 27 at 5:30 p.m.
On this week's Slate Political Gabfest, David Plotz, John Dickerson and guest panelist Will Dobson discuss Mitt Romney and Mormonism, Will's new book The Dictator's Learning Curve, and the controversial ousting of UVA President Teresa Sullivan.
Here are some of the links and references mentioned during this week's show:
John chatters about a 1952 New Yorker cartoon mocking instant punditry.
Will chatters about Joshua Hammer's Atlantic piece about the world's worst traffic jam in Lagos, Nigeria, which made a 40 mile trip 12 hours long.
The e-mail address for the Political Gabfest is gabfest@slate.com. (E-mail may be quoted by name unless the writer stipulates otherwise.)
Podcast production by Andrew Bouvé and Dale Willman. Links compiled by Aviva Shen.