The Absolutely Comfortable Gabfest
Listen to Slate's show about Obama's support for gay marriage and Mitt Romney's days as a prep school bully.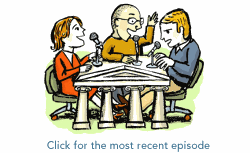 Become a fan of the Political Gabfest on Facebook. We post to the Facebook page throughout the week, so keep the conversation going by joining us there.
To listen to the discussion, use the player below:
Join David, John, and Emily for a live Gabfest on May 23 at Sixth and I Historic Synagogue in Washington, D.C. Buy tickets here. Before the show, get a drink with us at the Gabfest-only cocktail party at America Eats Tavern. Tickets available here.
On this week's Slate Political Gabfest, David Plotz, Emily Bazelon, and John Dickerson discuss the two major topics of the week: Obama's momentous declaration of his support for gay marriage rights and a Washington Post piece on Mitt Romney's past as a prep school prankster and bully.
Here are some of the links and references mentioned during this week's show:
Obama's ABC News interview in which he affirmed his support for gay marriage.
Joe Biden's Meet the Press interview in which he preempted the president by expressing his support for gay marriage.
David's Slate piece on why we shouldn't believe Obama's conversion story.
Emily's Slate piece on what Obama's declaration means legally and symbolically.
John's Slate piece on the political machinations behind the scenes of Obama's announcement.
Loving v Virginia, the Supreme Court case that finally outlawed anti-miscegenation laws.
The Washington Post piece on Romney's bullying of a gay student and blind teacher.
Emily's Slate piece on whether or not we can draw conclusions from Mitt Romney's actions during adolescence.
John's Slate piece on how Romney's bullying story fits in to the history of presidential origin myths.
The Boston Globe book, "The Making of Mitt Romney."
John's Slate piece on the four kinds of campaign controversies.
Emily chatters about this week's Time magazine cover, which features an uncomfortable photo of an attractive mother breast-feeding an older child.
John chatters about a New York Times slideshow of photos from the 1960 Democratic National Convention.
The email address for the Political Gabfest is gabfest@slate.com. (Email may be quoted by name unless the writer stipulates otherwise.)
Podcast production by Andrew Bouvé and Dale Willman. Links compiled by Aviva Shen.