The Vampire Squid Gabfest
Listen to Slate's show about the latest GOP primaries, gas prices, and Greg Smith's op-ed, "Why I'm Leaving Goldman Sachs."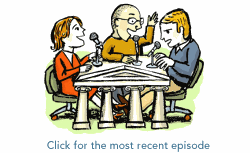 Become a fan of the Political Gabfest on Facebook. We post to the Facebook page throughout the week, so keep the conversation going by joining us there.
To listen to the discussion, use the player below:
John, David, and Emily are returning to Purdue University in Indiana for a live show on April 18. Register for free tickets here.
On this week's Slate Political Gabfest, Emily Bazelon, John Dickerson, and David Plotz discuss the primaries in Mississippi and Alabama, the political impact of high gas prices, and Greg Smith's New York Times op-ed, "Why I'm Leaving Goldman Sachs."
Here are some of the links and references mentioned during this week's show:
John's Slate piece on Rick Santorum's victories in Mississippi and Alabama.
A Fox News interview with Mitt Romney.
John's Slate piece on Mitt Romney's argument for why Gingrich and Santorum should avoid a contested convention.
A New York Times/CBS News poll finding a plunge in Obama's approval ratings to 41 percent.
Nate Silver's analysis finding little relationship between gas prices and approval ratings.
Alan Abramowitz's analysis also finding that gas prices alone are not a good predictor of approval ratings.
Greg Smith's New York Times op-ed, "Why I Am Leaving Goldman Sachs."
A Forbes article about billionaires who pulled their money from Goldman Sachs.

Emily chatters about her interview with Garry Trudeau, creator of Doonesbury, on this week's series of comic strips about state-mandated ultrasounds.
David chatters about his recent trips to South By Southwest in Austin and Silicon Valley, and the different "tribes" he's observed around the country.
John chatters about Richard Nixon's newly released love letters to his future wife, Pat, now on display at the Nixon Presidential Library and Museum.
The e-mail address for the Political Gabfest is gabfest@slate.com. (E-mail may be quoted by name unless the writer stipulates otherwise.)
Podcast production by Andrew Bouvé and Dale Willman. Links compiled by Aviva Shen.