The Rip Off Your Pink Ribbon Gabfest
Listen to Slate's show about the Florida primary, the Komen/Planned Parenthood showdown, and the suicide of Tyler Clementi.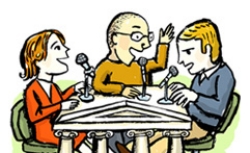 Become a fan of the Political Gabfest on Facebook. We post to the Facebook page throughout the week, so keep the conversation going by joining us there.
To listen to the discussion, use the player below:
On this week's Slate Political Gabfest, Emily Bazelon, John Dickerson, and David Plotz discuss the Florida primary, the showdown between the Susan G. Komen Foundation and Planned Parenthood, and the suicide of gay Rutgers student Tyler Clementi.
Here's David's panda performance art video:
Here are some of the links and references mentioned during this week's show:
John's Slate piece on the outcome of the Florida primary.
John's Slate piece on Romney's tone deaf comment that he's "not concerned about the very poor."
Gail Collins' New York Times column deconstructing Mitt Romney's explanation of the "very poor" comment.
Amanda Marcotte's Slate XX Factor post about the sneakiness of Komen's decision to cut ties with Planned Parenthood.
Jeffrey Goldberg's Atlantic piece on the internal fallout from Komen's decision.
The New Yorker piece on Tyler Clementi's suicide and Dharun Ravi's trial.

John chatters about the Atlantic Wire's roundup of the best totally wrong predictions of the Republican primary.
Emily chatters about Mark Zuckerberg's "social mission" as laid out in Facebook's IPO filing.
David chatters about his anti-panda performance art (see video above), and Newt's statement in an interview that he would want Brad Pitt to play him in a movie.
The e-mail address for the Political Gabfest is gabfest@slate.com. (E-mail may be quoted by name unless the writer stipulates otherwise.)
Podcast production by Andrew Bouvé and Dale Willman. Links compiled by Aviva Shen.