The Never Alone Gabfest
Listen to Slate's show about the Arizona and Michigan primaries, Mitt Romney's shifting abortion views, and a new affirmative action case heading to the Supreme Court.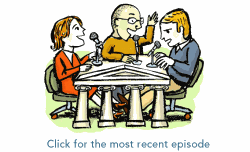 Become a fan of the Political Gabfest on Facebook. We post to the Facebook page throughout the week, so keep the conversation going by joining us there.
To listen to the discussion, use the player below:
John, David, and Emily will be returning to Purdue University for a live show on April 18. Stay tuned for more details.
On this week's Slate Political Gabfest, Emily Bazelon, John Dickerson, and David Plotz discuss the upcoming Arizona and Michigan primaries, talk to Slate's Will Saletan about Mitt Romney's flip-flops on abortion, and discuss the Supreme Court's decision to take on an affirmative action case from the University of Texas.
Here are some of the links and references mentioned during this week's show:
The latest Public Policy Polling poll showing Santorum ahead of Romney in Michigan by 4 points.
John's Slate piece on the Arizona debate.
Mitt Romney's op-ed in the Detroit News criticizing Obama's auto bailout.
John's Slate piece on Santorum's martyr complex.
Will's book, Bearing Right: How Conservatives Won the Abortion War.
Will Saletan's Slate piece on Romney's shifting abortion stance.
Will's answers to readers' questions on Romney's abortion views.
Emily's Slate XX Factor blog post on the Virginia ultrasound bill, and what its failure means for Romney.
The 5th Circuit's decision in Fisher v. University of Texas.
The Supreme Court's previous affirmative action case, Grutter v. Bollinger.

Emily chatters about Amtrak's new ban on children riding trains alone.
David chatters about his son's obsession with toy cars and wonders what boys fixated on before cars were invented.
The email address for the Political Gabfest is gabfest@slate.com. (Email may be quoted by name unless the writer stipulates otherwise.)
Podcast production by Andrew Bouvé and Dale Willman. Links compiled by Aviva Shen.