The Nuttiest Day of the Primary Gabfest
Listen to Slate's show about the South Carolina primary, the Keystone Pipeline XL decision, and SOPA/PIPA protests.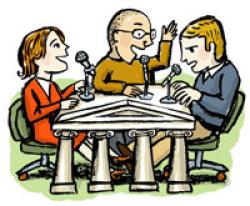 Become a fan of the Political Gabfest on Facebook. We post to the Facebook page throughout the week, so keep the conversation going by joining us there.
To listen to the discussion, use the player below:
Join David, John, and Emily at the 92YTribeca for a Gabfest live show on Feb. 15. For details and tickets, click here.
On this week's Slate Political Gabfest, Emily Bazelon, John Dickerson, and David Plotz discuss the suddenly-exciting South Carolina primary, President Obama's decision not to approve the Keystone oil pipeline from Canada, and the protests over the Internet piracy bills known as SOPA and PIPA.
Here are some of the links and references mentioned during this week's show:
John's Slate piece on the last South Carolina debate.
The latest polls showing that Gingrich has started to close in on Romney in South Carolina.
The ABC News interview with Newt Gingrich's second wife, Marianne, in which she claims Gingrich asked for an open marriage.
The Esquire feature on Marianne Gingrich from 2010.
John's Slate piece on whether or not Romney's wealth prevents him from connecting with voters.
The Citizens for Tax Justice report calculating that Romney's tax plan would cut his own taxes by almost half.
The Stop Online Privacy Act and the PROTECT IP Act.
The Wikipedia black-out web page about SOPA and PIPA.
Matt Yglesias' Slate piece arguing that some copyright infringement can be good for the economy.
Emily chatters about the decision by the Supreme Court to reject cases that would clarify when schools could punish kids for slandering each other on social media.
John chatters about a Washington Post piece finding that self-esteem boosting does not improve children's performance in school. He also gives a shout-out to the Culture Gabfest.
David chatters about a Men's Journal interview with Mark Wahlberg, in which he claimed he would have stopped 9/11 had he been on the plane.
The e-mail address for the Political Gabfest is gabfest@slate.com. (E-mail may be quoted by name unless the writer stipulates otherwise.)
Podcast production by Andrew Bouvé and Dale Willman. Links compiled by Aviva Shen.