The Death of Independent Bookstores Gabfest
Listen to Slate's show about the GOP debate, several controversial Supreme Court Cases, and the future of independent bookstores.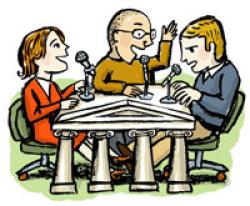 Become a fan of the Political Gabfest on Facebook. We post to the Facebook page throughout the week, so keep the conversation going by joining us there.
For listening to the Gabfest on the go, try Stitcher Smart Radio, a free app for your iPhone, Android phone, or BlackBerry that allows you to stream any podcast right over your cell connection. Download it at www.stitcher.com/politicalgab, and use the promo code SLATE.
On this week's Slate Political Gabfest, David Plotz, John Dickerson, and Emily Bazelon discuss the latest GOP debate, the controversial immigration and redistricting cases at the Supreme Court, and buying books from independent bookstores versus Amazon.
Here are some of the links and references mentioned during this week's show:
John's Slate piece on the Sioux City GOP debate.
John's Slate piece on Mitt Romney's claim that Newt Gingrich is "zany."
A CBS News piece on how the battle between Romney and Gingrich could drag on until spring.
Dahlia Lithwick and Barry Friedman's Slate piece on the three controversial cases on the Supreme Court's election-year docket.
An NPR series arguing that prison economics drove the formulation of the Arizona immigration law.
A Washington Post article about a civil rights report finding rampant discrimination against Latinos by Arizona Sheriff Joe Arpaio.
The Voting Rights Act of 1965.
Farhad Manjoo's Slate piece arguing that buying books on Amazon is better than buying them from independent bookstores.
Gary Shteyngart's novel, Super Sad True Love Story.
Emily chatters about a YouTube video," Shit Girls Say," and Linda Holmes' list of commenter types on year-end lists.
John chatters about his search for interesting iPhone/iPad apps to keep him occupied on the road and asks you to send him your favorite unusual or less well-known apps and podcasts at gabfest@slate.com or on the Facebook page.
David chatters about Mark Bauerlein's article The Research Bust in the Chronicle of Higher Education, which struggles with how to measure the worth of humanities research.
The e-mail address for the Political Gabfest is gabfest@slate.com. (E-mail may be quoted by name unless the writer stipulates otherwise.)
Podcast production by Andrew Bouvé and Dale Willman. Links compiled by Aviva Shen.