The Just Nuts to Run Gabfest
Listen to Slate's show about the non-candidacy of Chris Christie and Sarah Palin, and Apple's role in politics.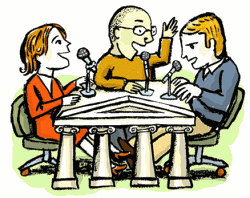 Become a fan of the Political Gabfest on Facebook. We post to the Facebook page throughout the week, so keep the conversation going by joining us there.
On this week's Slate Political Gabfest, Emily Bazelon, John Dickerson, and David Plotz discuss what the non-candidacy of Chris Christie and Sarah Palin mean for the GOP race, and Apple's curious avoidance of politics under Steve Jobs.
Here are some of the links and references mentioned during this week's show:
John's Slate piece about the GOP's search for a Romney alternative.
A CBS News poll finding 74 percent of Republican voters did not want Sarah Palin to run for president.
Rick Perry's comment in the Fox News/Google debate that denying in-state tuition to the children of illegal immigrants is heartless.
The Washington Post article that started the uproar over Rick Perry's family hunting camp.
A New Yorker piece about multimillionaire Art Pope's newfound ability to buy the North Carolina state legislature, thanks to Citizens United.
A New Yorker article about the Koch brothers.
Chris Christie's press conference in which he addressed the stigma attached to being overweight.
A video of Steve Jobs presenting his plan for the new Apple campus to the Cupertino City Council.

David chatters about a passage from Keith Richards' memoir, Life, in which he describes the new phenomenon of teenage fangirls.
Emily chatters about the confirmation that a Friday Night Lights movie is in the works.
The email address for the Political Gabfest is gabfest@slate.com. (Email may be quoted by name unless the writer stipulates otherwise.)
Posted on Oct. 7 by Aviva Shen at 10:40 a.m.