DoubleX Gabfest: The Are Fathers Necessary? Edition
Listen to Slate's show about Lauren Sandler's new book on being and having an only child, fathers (what are they good for?), and the case against wedding presents.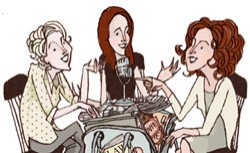 In this week's Gabfest, DoubleX editor Hanna Rosin joins DoubleX managing editor Allison Benedikt and New Republic staff writer Noreen Malone to discuss Lauren Sandler's new book about being and having an only child, One and Only; fathers (what are they good for?); and wedding presents—should we stop giving them?
Other items discussed in the show:
Allison Benedikt recommends Eli Saslow's beautifully written but grueling Washington Post story about life after Newtown for one victim's family.
Noreen Malone says you should check out Michelle Dean's New Yorker essay on the friendship between Hannah Arendt and Mary McCarthy. Oh, and watch The League.
Loyal fans of Slate's DoubleX, please remember to like us on our Facebook page.
TODAY IN SLATE
Politics
Blacks Don't Have a Corporal Punishment Problem
Americans do. But when blacks exhibit the same behaviors as others, it becomes part of a greater black pathology.
Lifetime Didn't Think the Steubenville Rape Case Was Dramatic Enough
So they added a little self-immolation.