DoubleX Gabfest: The P90X Edition
Listen to Slate's show about the Todd Akin rape controversy, Paul Ryan's hot bod, and Augusta National admitting its first two female members.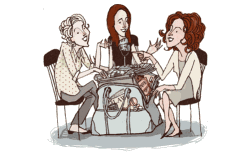 Listen to the DoubleX Gabfest with this audio player, or by using one of the other options below:
In this week's Gabfest, DoubleX editor Hanna Rosin joins New Republic staff writer Noreen Malone and DoubleX managing editor Allison Benedikt to discuss the Todd Akin rape controversy and its impact for the GOP; Paul Ryan—hot or not?; and whether we care that Augusta National has finally, in 2012, let in two female members.
Other items discussed in the show:
Noreen Malone seconds Hanna's recommendation but also suggests you squeeze in an additional beach read: J. Courtney Sullivan's Maine.
All Gabfest listeners: Please vote for our proposed SXSW panel on the changing rules for women and sex on TV. Vote early and often here! Voting ends Aug. 31, so do it NOW.