DoubleX Gabfest: The Circumspect Circumference Edition
Listen to Slate's show about prenatal depression, hot Olympic bodies, and cosmetic surgery for teenage girls.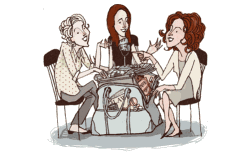 Listen to the DoubleX Gabfest with this audio player, or by using one of the other options below:
Advertisement

In this week's Gabfest, DoubleX managing editor Allison Benedikt joins New Republic staff writer Noreen Malone and Slate contributor Jessica Grose to discuss prenatal depression—what it feels like and the various ways to identify and treat it; the purported objectification of athletes' bodies at this year's Olympics, particularly the male swimmers and the female volleyball players; and the case of Nadia Ilse, a bullied Georgia teenager who was given free cosmetic surgery.
Other items discussed in the show:
TODAY IN SLATE
Medical Examiner
The Most Terrifying Thing About Ebola
The disease threatens humanity by preying on humanity.