DoubleX Gabfest: The Un-Retouched Edition
Listen to Slate's show about young women getting their tubes tied, last week's date-rape episode of Louie, and Seventeen magazine's new photo touch-up policy.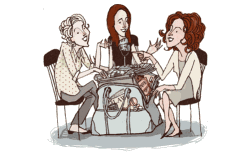 Listen to the DoubleX Gabfest with this audio player or by using one of the other options below:
In this week's Gabfest, DoubleX editor Hanna Rosin joins New Republic staff writer Noreen Malone and DoubleX managing editor Allison Benedikt to discuss the challenges that young women who want to have their tubes tied face at the doctor's office; last week's gender-bending episode of Louie, which starred Melissa Leo and featured a sexual assault; and Seventeen magazine's new photo-retouching policy.
Other items discussed in the show:
Allison Benedikt recommends binge-watching the first season of Homeland before Season 2 starts in September.