DoubleX Gabfest: The Glamour Beard Edition
Listen to Slate's show about Sandra Fluke, whether progressives should home school, and how women really feel about beards.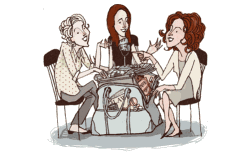 Listen to the DoubleX Gabfest by clicking the arrow on the audio player below or by opening this player in another tab:
The DoubleX "coffee talk" endorsements:
Hanna Rosin recommends the audiobook of Alvin Ho, a book her middle son adores. You can get the book at audible.com, if you follow this link and sign up for a free 30-day trial. She particularly loves the child actor, Everette Plen, who reads the book. She also recommends the catalog Make, which offers DIY projects for parents and kids.
Noreen Malone is a fan of the new HBO movie Game Change, which premieres on March 10 at 9 p.m. It's a movie about the 2008 election, specifically about Sarah Palin's rise to fame as the GOP's vice presidential candidate. Julianne Moore is surprisingly sympathetic as Palin.
We also want to remind you that DoubleX has its first live show at the New America Foundation coming up next Wednesday, March 14 in New York. We're delighted that Samantha Bee of the Daily Show will be joining us as our very special guest. Ticket information can be found here.
Here are some links to other things that we discussed on the podcast: