DoubleX Gabfest: The Roving Eye Edition
Listen to Slate's show about Susan Orlean, Steven Pinker, and the sexual harassment suits against Herman Cain.
Posted Thursday, Nov. 3, 2011, at 12:24 PM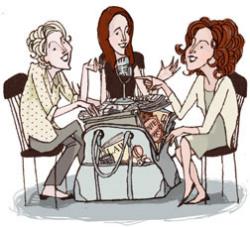 Illustration by Deanna Staffo.
In this week's gabfest, DoubleX founding editor Hanna Rosin, Slate senior editor Jessica Grose, and special guest, Slate national correspondent Will Saletan discuss the sexual harassment charges against Herman Cain, Steven Pinker's new book, The Better Angels of Our Nature: Why Violence Has Declined and his argument about how the feminization of our culture has lead to a lower crime rate. Finally, Hanna Rosin interviews New Yorker star Susan Orlean about Rin Tin Tin: The Life and the Legend.

The DoubleX weekly "coffee talk" endorsements:
Jessica Grose recommends two movies: The film festival hit directed by Lynn Shelton, My Sister's Sister, starring Emily Blunt and Mark Duplass, and the '80s classic F/X, starring Bryan Brown (of Cocktail fame!) and Brian Dennehy. Which is currently available on Netflix instant.
MYSLATE
Jessica Grose is the author of the novel Sad Desk Salad, co-author of Love-Mom, and a regular Slate contributor.

Hanna Rosin is the author of The End of Men, a co-founder of Slate's DoubleX and a senior editor at the Atlantic. She can be reached at hanna.rosin@gmail.com. Follow her on Twitter or Facebook or visit her website.

Will Saletan covers science, technology, and politics for Slate and says a lot of things that get him in trouble.