The Culture "Bullets or Exposition" Edition
Slate's Culture Gabfest on Narcos, Jonathan Franzen, and students at Duke refusing to read Fun Home.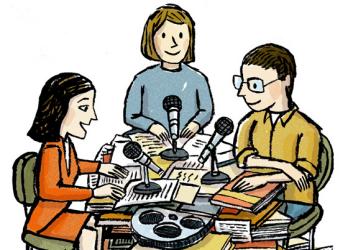 Listen to Culture Gabfest No. 363 with Stephen Metcalf, Laura Miller, and Dana Stevens with the audio player below:
This week on Slate Plus, Laura, Dana, and Steve talk about the most exotic vacations they've ever taken.
On this week's Slate Culture Gabfest, the critics discuss Narcos, a new Netflix drama that follows the story of the rise of Colombian drug kingpin Pablo Escobar and the infamous Medellín cartel. Does it offer a nuanced explanation of the escalation of the American drug wars, or does it oversimplify? Next up, Jonathan Franzen's new novel, Purity, was released this week. The critics discuss his cultural impact, including why his work has become such an irritant to some and a touchstone to others. Finally, a group of first-year students at Duke University have publicly refused to read Alison Bechdel's graphic novel Fun Home based on what they feel is "pornographic" content. Does Fun Home belong on a reading list for first-year students? Is it homophobic to assume that it doesn't?
Links to some of the things we discussed this week:
This episode of Slate's Culture Gabfest is brought to you by Braintree. With one simple integration, you can offer your customers every way to pay. To learn more, and for your first $50,000 in transactions fee-free, go to braintreepayments.com/culture. The Gabfest is also brought to you by Next Issue. If you want premium content and don't have time to find it, Next Issue lets you dive deeper into the world's most popular magazines anytime, anywhere, using your phone or tablet. For a free trial, go to nextissue.com/culture.
This podcast was produced by Ann Heppermann. Our intern is Lindsey Albracht.