The Culture Gabfest "Stupid and Contagious" Edition
Slate's Culture Gabfest on Kurt Cobain: Montage of Heck, boxing, and dad bod.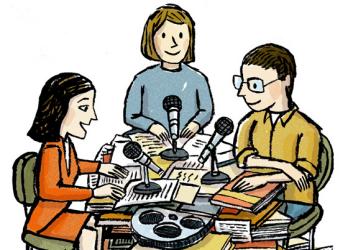 Listen to Culture Gabfest No. 346 with Stephen Metcalf, Dana Stevens, and Julia Turner with the audio player below.
Go to slate.com/cultureplus to learn more about Slate Plus and join today. This week on Slate Plus, Julia and Steve give Dana a chance to weigh in on the topics she's missed over the last two weeks.
On this week's Slate Culture Gabfest, the critics discuss Kurt Cobain: Montage of Heck, the documentary about the Nirvana frontman. In what new ways does it examine Cobain's heavily dissected life? Next up, guest Seth Stevenson recently tried boxing and was surprised by how much he liked it. Why did he ultimately decide to give it up? Finally, the term "dad bod" went viral last week. What is dad bod, and is this an actual trend?
Links to some of the things we discussed this week follow:
Julia: Hamilton, a hip-hop inflected musical about the founding father that opens on Broadway this summer.
This podcast was produced by Ann Heppermann. Our intern is Lindsey Albracht.