The Culture Gabfest "Red Room of Pain" Edition
Slate's Culture Gabfest on Fifty Shades of Grey, Jon Stewart leaving The Daily Show, and Oscar fashion coverage.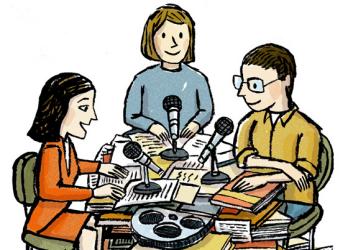 Listen to Culture Gabfest No. 335 with Stephen Metcalf, Dana Stevens, and Julia Turner with the audio player below.
This week, Slate Plus listeners will hear the critics and Slate podcast managing producer Joel Meyer discuss tour riders and the kerfuffle over Jack White's guacamole requests.
This week on the Slate Culture Gabfest, the critics discuss the monster hit Fifty Shades of Grey. Is it tediously conventional or self-consciously campy? Next up, Jon Stewart recently announced that he'll retire from The Daily Show later this year. Guest Jamelle Bouie joins the critics to talk about why he thinks this is a good thing for the left. Finally, the critics talk about the revolt that some female celebrities have launched against red carpet pageantry. What's inspiring this award season's rage against the mani cam?
Links to some of the things we discussed this week follow:
Outro: "Love Me Like You Do" by Ellie Goulding
This podcast was produced by Ann Heppermann. Our intern is Lindsey Albracht.