The Culture Gabfest "Talk of Shame" Edition
A special call-in edition of the Slate Culture Gabfest! On: parenthood, imaginary language knowledge, film festivals, and more.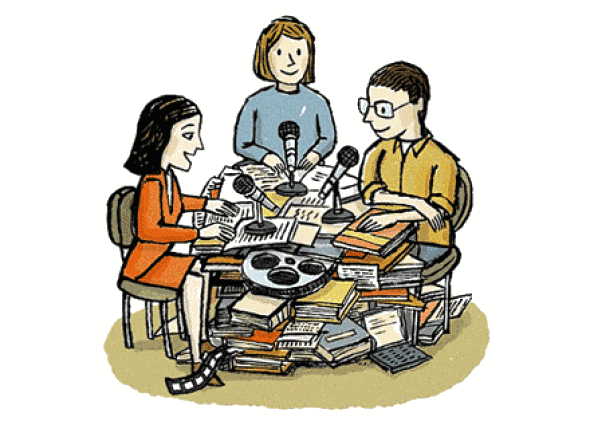 Listen to Culture Gabfest No. 312 with Stephen Metcalf, Julia Turner, and Dana Stevens with the audio player below.
This week Slate Plus listeners will see a special video segment from the Mohonk Slate retreat. They'll also get early access to tickets for the upcoming Boston live show on Oct. 20, and 30 percent off tickets to all Slate events.
Don't forget to buy your tickets for the Oct. 8 L.A. live show, which will feature special guests John August and Craig Mazin from the much-endorsed Scriptnotes podcast.
This week is the special call-in edition, aka the Hungover Mohonk Show! The gabbers answer some burning questions from loyal listeners. First up, Sarah from Massachusetts asks about maintaining an actual human inner life while also being a "good" "parent." Next up, James from Seattle asks: What language would you speak, for seven days only? Jordan from Boston has the next question, about film festival season. Is it worth anything, or is there such a thing as "festival grade inflation"? Next, Sam from New York asks: What is the most salient cultural sensibility of our day? Then, Little Fur Family purchaser Brett in New York inquires about children's literature. He asks: What kind of TV do the gabbers let their kids watch? Laura from Wisconsin has the penultimate question and wants to know: What's the best part about getting older? Finally, Peter from D.C. asks whether the critics have ever just kept an endorsement for themselves. Thank you to everybody that called in, we wish we could have answered you all.
Links to some of the things we discussed this week follow:
Dana: Moby Dick, particularly the last three chapters
Julia: (Dancing to) Beyoncé's "XO"
This podcast was produced by Andy Bowers and Ann Heppermann. Our intern is Josephine Livingstone.