The Culture Gabfest "There Is No Dana. There Is Only Zuul" Edition
Slate's Culture Gabfest on the legacy of Harold Ramis, Frozen, and writerly procrastination.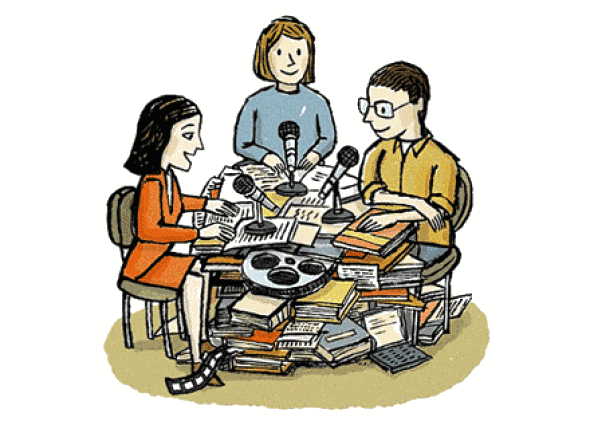 Listen to Culture Gabfest No. 284 with Stephen Metcalf, Dana Stevens, and Julia Turner with the audio player below.
The sponsors of this week's show are Audible and Stamps.com. Get a free audiobook from Audible's collection of more than 150,000 titles and a subscription to a daily audio digest when you sign up for a 30-day free trial at www.audiblepodcast.com/culturefest. Go to Stamps.com and use the promo code "CULTUREFEST" for your no-risk free trial and bonus offer.
Culturefest is on the radio! "Gabfest Radio" combines Slate's Culture and Political Gabfests in one show—listen on Saturdays at 7 a.m. and Sundays at 6 p.m. on WNYC's AM820.
This week, the critics discuss the death of comedy legend Harold Ramis. Actor, director, and co-writer of landmark films like Animal House, Caddyshack, and Ghostbusters, Ramis helped to define a generation of anarchic humor and anti-establishment omega males. Next the gabbers turn to Frozen, Disney's latest animated film and an Oscar nominee. Grappling with the film's ambiguous gender politics, the critics focus on the climactic power ballad "Let It Go," which has become the soundtrack for households of elementary-school girls everywhere. And finally, the critics use Megan McArdle's essay in The Atlantic, "Why Writers are the Worst Procrastinators," to discuss their own writing habits. Between Web browsing and needless shopping, it's a wonder that writers ever write anything.

Links to some of the things we discussed this week follow:
Dana: Gerard Manley Hopkins' poem "Pied Beauty" for its delightful sprung rhythm and many "dappled things—"
Julia: The experimental, romantic fifth episode of Looking on HBO
Steve: His friend Naomi's "counterintuitive" granola recipe with shredded coconut
Outro: Dana's 8-year-old daughter's rendition of "Let It Go" from Frozen