The Culture Gabfest "Butchery and Bitchery" Edition
Slate's podcast about Drake's new album, hatchet job book reviews, and Apple's new operating system iOS7.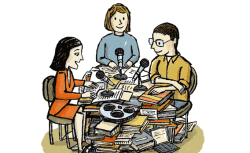 Listen to Culture Gabfest No. 263 with Stephen Metcalf, Dana Stevens, and Julia Turner with the audio player below.
Culturefest is on the radio! "Gabfest Radio" combines Slate's Culture and Political Gabfests in one show—listen on Saturdays at 7 a.m. and Sundays at 6 p.m. on WNYC's AM820.
On this week's episode, the critics discuss Drake's new album Nothing Was the Same. With the help of New York magazine's music critic Jody Rosen, they explore Drake's wildly-popular brand of hip hop, in which authenticity is tied to emotional availability instead of street credibility. Next, the gabbers join in on a debate initiated by Clive James in the New York Times, lamenting the state of the American book review. Have American critics lost their bite? Finally, the critics take stock of Apple's newest operating system iOS7, assessing its successes, controversies, and departures from a Jobs-approved aesthetic.
Links to some of the things we discussed this week:
You can email us at culturefest@slate.com.
This podcast was produced by Sally Herships and engineered by Chris Wade. Our intern is Anna Shechtman.