The Culture Gabfest "In a World Without Steve and Dana" Edition
Slate's podcast about the new film In a World, experiments in online longform journalism, and "Blurred Lines."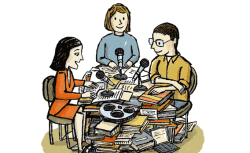 Listen to Culture Gabfest No. 257 with David Haglund, Seth Stevenson, and Julia Turner with the audio player below.
The sponsors of this week's show are Stamps.com and Audible.com. Go to Stamps.com and use the promo code "CULTUREFEST" for your no-risk free trial and bonus offer. Get a free audiobook from Audible's collection of more than 100,000 titles and a subscription to a daily audio digest when you sign up for a 30-day free trial at www.audiblepodcast.com/culturefest.
Culturefest is on the radio! "Gabfest Radio" combines Slate's Culture and Political Gabfests in one show—listen on Saturdays at 7 a.m. and Sundays at 6 p.m. on WNYC's AM820.
The Culture Gabfest's first ever show in Brooklyn will be on Tuesday, Sept. 24 at the Bell House. Buy tickets at www.slate.com/cultureNYC
On this week's episode, our critics discuss Lake Bell's new romantic comedy In a World, which she directed, wrote, and starred in. The film follows Bell's character as she tries to break the glass ceiling in the voice-over world—a world dominated by low-pitch, high-testosterone male voices. The gabbers review the film and discuss the state of the modern voice-over. Next, the gabfest dissects the New York Times' multimedia story "The Jockey." Like its Pulitzer Prize-winning predecessor, John Branch's "Snow Fall," "The Jockey" features high-quality photos and video clips embedded throughout. Does this species of online journalistic experiment work? Or does it get in the way of solid reporting? Lastly, Slate music critic Carl Wilson joins in to discuss the 2013 Song of Summer, Robin Thicke's "Blurred Lines." This summer hit comes with copyright drama, a NSFW video, and allegations of sexism. But is it catchy enough to deserve the hype?
Here are links to some of the things we discussed this week:
Seth: Joe Swanberg's new film Drinking Buddies, and, of course, the Slate softball team.
Julia: Steven Soderbergh's film adaptation of Elmore Leonard's novel Out of Sight.
Outro: "Pretty Time Bomb" by Sam Phillips.
You can email us at culturefest@slate.com.

This podcast was produced by Dan Pashman. Our intern is Sam McDougle.