The Culture Gabfest "It Was a Dark and Stormy Gabfest" Edition
Slate's podcast about Woody Allen's new film Blue Jasmine, racism on Big Brother, and first lines in literature.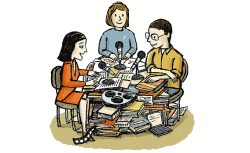 Listen to Culture Gabfest No. 254 with Stephen Metcalf, Willa Paskin, Dana Stevens, and Julia Turner with the audio player below.
Culturefest is on the radio! "Gabfest Radio" combines Slate's Culture and Political Gabfests in one show—listen on Saturdays at 7 a.m. and Sundays at 6 p.m. on WNYC's AM820.
On this week's episode, our critics discuss Woody Allen's new film Blue Jasmine, which stars Cate Blanchett. The film has earned Woody Allen the most successful box office opening weekend of his career. But does it live up to the hype? And is Woody Allen getting graded on a curve? Next, Slate TV critic Willa Paskin joins the crew to discuss overt racism on the popular CBS reality show Big Brother. What's going on in that big house, and why does it matter? Finally, Stephen King recently gave an interview in the Atlantic and spoke about the importance of novels having magnetic first lines. The gabbers discuss what makes a good first line, their personal favorites, and the general phenomenon of canonizing the opening sentence.
Here are links to some of the things we discussed this week:
Outro: "Waiting for Superman" by The Flaming Lips.
You can email us at culturefest@slate.com.

This podcast was produced by Mike Vuolo. Our intern is Sam McDougle.