The Culture Gabfest: I Remain Your Ever Fond Servant Edition
Slate's podcast about Jane Campion's miniseries Top of the Lake, David Bowie's new album The Next Day, and email signoff etiquette.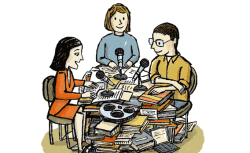 Listen to Culture Gabfest No. 235 with Dana Stevens, John Swansburg, and June Thomas with the audio player below:
The sponsors of today's show are Shutterstock.com and Stamps.com. Go to Shutterstock.com and use the offer code "SLATE3" for 30 percent off new accounts. Go to Stamps.com and use the promo code "CULTUREFEST" for your no-risk free trial and bonus offer.
Culturefest is on the radio! "Gabfest Radio" combines Slate's Culture and Political Gabfests in one show—listen on Saturdays at 7 a.m. and Sundays at 6 p.m. on WNYC's AM820.
On this week's episode, our critics discuss Jane Campion's new Sundance Channel miniseries, Top of the Lake, from its portrayal of rural New Zealand to its unseemly male characters and Campion's trademark lingering on uncomfortable moments. Then, writer Geeta Dayal joins in to discuss David Bowie's first new album in 10 years, The Next Day, and to explore Bowie's cultural legacy. Finally, the Culturefesters debate email signoff etiquette. Should "cheers," "best," and "xoxo" be eliminated from our correspondence for all time? Or are they useful codes that help us communicate?
Here are links to some of the things we discussed this week:
June's pick: The BBC Radio 4 radio show and podcast Ramblings. On a recent episode host Clare Balding went on a walk and picked up litter with David Sedaris.
John's pick: A History of Future Cities by Daniel Brook, a book that explores the creation of four Eastern cities that were built to mimic Western modernization.
Dana's pick: Bach 360°, WQXR's 10-day festival that celebrates the birthday of the composer J.S. Bach with more than 200 hours of his music.
Outro: "The Next Day" by David Bowie.
You can email us at culturefest@slate.com.

This podcast was produced by Julia Furlan. Our intern is Sally Tamarkin.