The Culture Gabfest: We Saw You're a Boob Edition
Slate's podcast about the 2013 Academy Awards, the "Harlem Shake" Internet meme, and the HBO series Enlightened.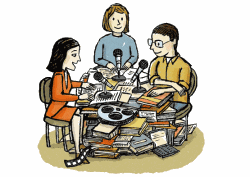 Listen to Culture Gabfest No. 232 with David Haglund, Stephen Metcalf, Jody Rosen, and Dana Stevens by clicking the arrow on the audio player below:
The sponsor of today's show is Audible.com. Get a free audiobook from Audible's collection of more than 100,000 titles and a subscription to a daily audio digest when you sign up for a 30-day free trial at www.audiblepodcast.com/culturefest.
Culturefest is on the radio! "Gabfest Radio" combines Slate's Culture and Political Gabfests in one show—listen on Saturdays at 7 a.m. and Sundays at 6 p.m. on WNYC's AM820.
On this week's episode, the Gabfesters are joined by Slate music critic Jody Rosen to discuss the 2013 Academy Awards. They consider the career trajectory of Ben Affleck, canned acceptance speeches, the alleged sexism of Seth MacFarlane's opening number, and the overall gestalt of the broadcast. They then discuss "Harlem Shake" in its current iteration as an Internet meme as well as its origins as a dance popularized in the early 2000's by P. Diddy and his Bad Boy Records crew. They also consider the relationship between online popularity and chart success. Finally, our critics are joined by Slate Brow Beat editor David Haglund to talk about the HBO series Enlightened, and how its lead character Amy Jellicoe breaks the alpha male anti-hero mold.
Here are links to some of the things we discussed this week:
Stephen's pick: The video "The Evolution of Mom Dancing" with Jimmy Fallon and Michelle Obama. Even if you've seen it 10 million times, watch it again.
Outro: "Make Me Yours" by Bettye Swann
You can email us at culturefest@slate.com.

This podcast was produced by Julia Furlan. Our intern is Sally Tamarkin.