The Culture Gabfest: Love and Death in a Fabulous Apartment Edition
Slate's podcast about Michael Haneke's Amour, self-help, and Maria Bamford's comedy Special Special Special!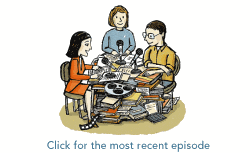 Listen to Culture Gabfest No. 226 with Stephen Metcalf, Dana Stevens, and Julia Turner by clicking the arrow on the audio player below:
The sponsors of today's show are Stamps.com and Audible.com. Go to Stamps.com and use the promo code "CULTUREFEST" for your no-risk free trial and bonus offer. Get a free audiobook from Audible's collection of more than 100,000 titles and a subscription to a daily audio digest when you sign up for a 30-day free trial at www.audiblepodcast.com/culturefest.
Culturefest is on the radio! "Gabfest Radio" combines Slate's Culture and Political Gabfests in one show—listen on Saturdays at 7 a.m. and Sundays at 6 p.m. on WNYC's AM820.
On this week's Culturefest, our critics discuss the incredible performances in Michael Haneke's Amour and how the movie departs from the confrontational style that has become Haneke's hallmark. The Gabfesters then delve into Kathryn Schulz's New York article about the self in "self-help," pondering the genesis of the modern self-help movement and the efficacy of its accompanying literary genre. Finally, the critics discuss Special Special Special! the new stand-up comedy hour from Maria Bamford. They consider her dark wackiness and how her material about her own mental illness makes for a compelling (though not necessarily laugh-out-loud-funny) set.
Here are some links to the things we discussed this week:
Dana Stevens' review of Amour for Slate.
Other Michael Haneke movies: Piano Teacher, Funny Games, Caché (Hidden), and The White Ribbon.
Dennis Lim's interview with Michael Haneke for the New York Times.
Teju Cole for The New Yorker on Amour and what happens when "someone becomes no one."
The 1959 movie Hiroshima, Mon Amour, starring Emmanuelle Riva and two movies starring Jean-Louis Trintignant: The Conformist (1970) and A Man and a Woman (1966).
Kathryn Schulz's article "The Self in Self-Help" for New York.
The Wrong Stuff: What it Means To Make Mistakes, Kathryn Schulz's blog for Slate.
Also in New York "The Power of Positive Publishing: How Self-Help Ate America" by Boris Kachka.
Confessions by Saint Augustine, one of Dana's all time favorite books.
The self-help classics The 7 Habits of Highly Effective People and Who Moved My Cheese? An Amazing Way To Deal With Change in Your Work.
Self-help gurus Tony Robbins, Dale Carnegie, David Allen, Samuel Smiles, and Timothy Ferriss.
Maria Bamford's stand-up comedy special Special Special Special!.
"Stand-up Comedy and Mental Illness: A Conversation with Maria Bamford" by David Haglund for Slate.
Emily Nussbaum on niche comedy for The New Yorker.
Maria Bamford's "Ask Me Anything" Q-and-A on Reddit.
Philip Larkin's poem "This Be the Verse."
Maria Bamford's self-produced autobiographical web series The Maria Bamford Show.
Julia's pick: Really excellent cornbread with just right density and heft. This recipe from the Cambridge restaurant East Coast Grill, reprinted by Sam Sifton in the New York Times, will make you feel like a prairie frontierswoman.
Stephen's pick: English singer songwriter Labi Siffre whose 1970's songs have been sampled by Kanye West and Eminem.
Outro: "I Got the …" by Labi Siffre